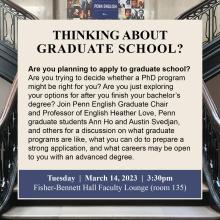 Thinking About Graduate School?
A Discussion on Graduate Programs with Faculty & PhD Students
Tuesday, March 14, 2023 -

3:30pm

to

4:30pm
Fisher-Bennett Hall Faculty Lounge (room 135)
Are you planning to apply to graduate school? Are you trying to decide whether a PhD program might be right for you? Are you just exploring your options for after you finish your bachelor's degree? Join Penn English Graduate Chair and Professor of English Heather Love, Penn graduate students Ann Ho and Austin Svedjan, and others for a discussion on what graduate programs are like, what you can do to prepare a strong application, and what careers may be open to you with an advanced degree.