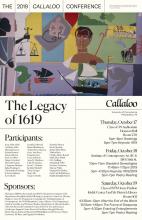 The Legacy of 1619 Conference - Saturday
The 2019 Callaloo Conference
Saturday, October 19, 2019 -

10:30am

to

8:00pm
Class of 1978 Orrery Pavilion
Kislak Center, Van Pelt-Dietrich Library, Room 602
 
The year 2019 marks the quadricentennial of a momentous event in American history: the arrival of "20 and odd" enslaved Africans in 1619 at Point Comfort, Virginia Colony. This event and its attendant histories would alter the course and character of not only the United States, but also the modern world. The Legacy of 1619: The 2019 Callaloo Conference is an occasion to commemorate this world-historical event and moreover bring to bear the great advances made in African Diaspora literary, visual, and cultural studies to understand the significance of 1619 and its continued reverberations; to raise questions that remain particularly germane in our present: How do the political, economic, and cultural circumstances of Virginia Colony in 1619 speak to us in twenty-first century America? And the voices of those "20 and odd" Africans, what might they say to us now? From the vantage point of 1619, and our own time four centuries later, how do we envision another calculus of being in the world? The Legacy of 1619: The 2019 Callaloo Conference provides a timely occasion to engage and extend these questions.
---
10:30 AM-12:00 PM   After the End of the World
Speakers
Simone White, University of Pennsylvania
Christopher Freeburg, University of Illinois, Urbana-Champaign
Tavia Nyong'o, Yale University                                  
Lyrae Van Clief-Stefanon, Cornell University
 
Respondents
Jonathan Howard, Boston College
Scott Heath, Loyola University, New Orleans
Moderator
Kiana Murphy, University of Pennsylvania
 
12:15 AM-1:45 PM     The Future of Diasporas
Speakers
K. Ian Grandison, University of Virginia
Kokahvah Zauditu-Selassie, Coppin State University
Joan Anim-Addo, Goldsmiths, University of London
 
Respondents
Grace Johnson, University of Pennsylvania
Jarvis C. McInnis, Duke University
Moderator
Tajah Ebram, University of Pennsylvania
 
3:00 PM-4:30 PM       Enacting Entanglements
*This panel is being organized by the Institute for Contemporary Art, University of Pennsylvania, in conjunction with their three-part exhibition Colored People Time: Banal Presents, curated by Meg Onli, Assistant Curator. The exhibition will run from September 13 to December 22, 2019.
 
Amber Rose Johnson, Ph.D. Candidate, University of Pennsylvania
Doug Kearney, University of Minnesota, Twin Cities
Sable Elyse Smith, Artist
Zakiyyah Iman Jackson, University of Southern California
Wilmer Wilson IV, Artist
 
5:00 PM-7:00 PM       Readings
Lyrae Van Clief-Stefanon, Cornell University
Gregory Pardlo, Rutgers University, Camden
Natasha Trethewey, Northwestern University
 
8:00 PM                               Dinner for Conference Participants
 
---
Sponsors
The Legacy of 1619 has been made possible by the generous support of the Department of English and the following co-sponsors: Center for Africana Studies; Center for Programs in Contemporary Writing; Institute of Contemporary Art; Wolf Humanities Center; History of Art Department; Gender, Sexuality, and Women's Studies; Department of Africana Studies; University Research Foundation Grant; School of Arts and Sciences Conference Support Grant; Provost's Excellence through Diversity Fund; African American Museum in Philadelphia; and Professors Margo Crawford, Al Filreis, and Dagmawi Woubshet.