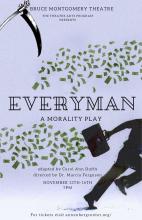 EVERYMAN, A Morality Play
Wednesday, November 13, 2019 -

7:00pm

to

9:00pm

Thursday, November 14, 2019 -

7:00pm

to

9:00pm

Friday, November 15, 2019 -

7:00pm

to

9:00pm

Saturday, November 16, 2019 -

7:00pm

to

9:00pm
Bruce Montgomery Theater
3680 Walnut Street, Philadelphia, PA 19104
Please consider attending a performance of Everyman: A Morality Play, which Marcia Ferguson directs. Special bonus: if you can make the (free!) Wednesday evening performance you'll be able to catch Emily Steiner conducting a talk-back!
---
The Theatre Arts Program at UPenn presents: EVERYMAN, A Morality Play, in the Bruce Montgomery Theatre
Adapted by Carol Ann Duffy
Directed by Dr. Marcia Ferguson
Everyman is successful, popular and riding high when Death comes calling. He is forced to embark on a last, frantic search to recruit a friend, a foe, anyone, to speak in his defense. But Death is close behind, and time is running out.  One of the great primal, spiritual myths, Everyman asks whether it is only in death that we can truly understand our lives. A cornerstone of English drama dating from the 16th century, it has been produced across the globe ever since.  Join the Theatre Arts program for our profound and playful production of EVERYMAN. 
Wednesday, Nov. 13th at 7pm*
Thursday, Nov. 14th at 7pm
Friday, Nov. 15th at 7pm
Saturday, Nov. 16th at 7pm
*Opening Night tickets are free for all. Join us after the performance for a reception (free food!) and a talk-back with renowned medievalist Prof. Emily Steiner.