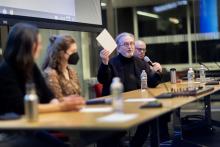 Professors David Wallace and Caroline Batten Discuss "Beowulf" with Performer Benjamin Bagby and Penn Music Professor Mary Channen Caldwell
See this coverage as it originally appeared on the Penn Today website: https://penntoday.upenn.edu/news/Beowulf-Benjamin-Bagby-Penn-Live-Arts-E...
Evoking an ancient world
The medieval English epic poem "Beowulf" is brought to life in a musical performance and academic discussion through a partnership among the Penn Live Arts, the Libraries, and the School of Arts & Sciences. 
Hwæt. We Gar-Dena in gear dagum þeodcyninga þrym gefrunon hu ða æþelingas ellen fremedon. (Lo! We have heard of the glory of the folk-kings of the Spear-Danes in days gone by, how the princes did glorious deeds.) 
—Beowulf, The Nowell Codex
Around the year 1000, two monks took turns writing down the epic poem known as "Beowulf" in Old English, setting in ink the heroic tale that had been spoken in a storytelling tradition for hundreds of years. No one now knows who created the 3,182 alliterative lines, but the work is one of the most important and most translated known epics in history, often included on required-reading lists.  
"Beowulf" came to the Penn Live Arts stage in a sold-out performance and to the Penn Libraries in an academic roundtable with School of Arts & Sciences' English and music professors, featuring the performer Benjamin Bagby, who uses his voice and a six-string harp to present the medieval text, evoking an ancient world.  
"This epic was actually created for a reason in its time, to move people and to make them sad or make them happy or delight them or make them think about larger things," Bagby said in a Q&A with Christopher Gruits, Penn Live Arts executive and artistic director, after what Gruits called a "riveting and amazing" performance on Jan. 27. 
Dressed in black and sitting in the center of the stage, Bagby vocalized the words in Old English, at intervals plucking the harp, for a continuous hour and a half before an audience of nearly 250, the translation projected on a screen behind him.
The performance covers about the first quarter of the story, set on the Danish coast, including when the hero Beowulf as a young man vanquishes the savage monster Grendel, who terrorizes and kills the Danes, provoked by the laughter of the mead-drinking warriors and songs of the scop, or bard, in a large hall built by the king.
Speaking to the audience of about 50 at roundtable held Jan. 26 at the Kislak Center for Special Collections, Rare Books, & Manuscripts, David Wallace, the Judith Rodin Professor of English, said "Beowulf" is relevant today, noting that it inspired both J.R. Tolkien's "Lord of the Rings" and also C.S. Lewis' "Chronicles of Narnia."
Wallace teaches "Beowulf" in his Penn classes, this semester in his National Epics first-year seminar, associated with his research project nationalepics.com. "Beowulf" has long been considered "essential in representing the long continuity of English identity, in Old English, Middle English, and modern English," Wallace said.
"Tolkien argued that 'Beowulf' should amount to more than an instrument of torture for English majors sweating in their examination halls. It is a spectacular work of art and the only long heroic poem in Anglo-Saxon," Wallace said. "The whole of Tolkien's creative activity fills in and augments the creative space of Beowulf."
He said the heralded "Beowulf" translation by Irish poet Seamus Heaney, published in 2000, "honors Tolkien's high estimate of the work's unique creative power." In his "revolutionary" musical interpretation, Bagby helps "bust 'Beowulf' out of institutional constraints" and into a new form of creativity, Wallace said. "And Bagby began his creative years before Heaney started translating."
Mary Channen Caldwell, assistant professor of music, said she shows her music history students clips of Bagby's performances, available online, "in order to introduce questions of orality, textuality, and performance, the ways in which music and poetry were transmitted in pre-modern or medieval Europe and beyond." It reminds her, she said, "of how important the epic and its performance are to how I teach music history." 
When she discovered that Bagby was scheduled to perform, Caldwell organized the roundtable working with the Penn Live Arts team, faculty in the English Department, and staff at the Libraries, including Lynne Farrington, director of programs, and Mary Tasillo, director of the Common Press, who hand-printed the programs.
Caldwell read Heaney's "Beowulf" translation during the winter break. "I was newly taken aback by how noisy the epic is: clashing swords, wailing women, noisy footsteps, flashing waves, harps and minstrels and scops," she said. "There's an entire sound world unveiled in Beowulf that spills out in wondrous ways throughout the text." 
There is no musical notation in that singular original text of "Beowulf," even though musical notation does appear in other European medieval sources, said Caldwell, who researches and teaches music in Europe from about 1000 to 1600. Bagby said that as he created his performance the most formidable challenge was that "the one thing I did not have was a score. It's not that it existed and it's lost; it never existed."
An exhibition of "Beowulf" editions and related texts was open in the historic Henry Charles Lea Library before and after the academic roundtable.
Bagby plays a harp built in 1997 based on the fragments of an instrument excavated from a 7th-century German nobleman's grave. He arrived at a tuning for the harp and created the music, based on his own research. "I'm trying to reconstruct something that is fairly accurately described for which we have zero records except anecdotal descriptions and instruments and the metrical structure of the poetry itself," he said.
"As a musicologist who often works with un-notated sources, I hold dear artists and performers who willingly tackle the challenge posed by texts that actually want to be performed and heard," Caldwell said. "I not only accept but fully believe that many notated texts from medieval Europe were meant to be performed out loud, whether spoken, recited, or in many cases, sung." 
Caroline Batten, assistant professor of medieval English literature, said the "Nowell Codex" was written "somewhere in England" by two monks in a scriptorium in a monastery around 1000. "We don't know who they were. We don't know where they were. We barely know when they were," Batten said, noting that it is written in the oldest recorded form of English. 
It's highly likely that the scribes were copying from a source written around the year 700, based on language features that date it to that time, such as particular spelling errors, Batten said, "but any manuscripts older than the 'Nowell Codex' have been lost—if indeed they existed—and the full history of the poem's transmission is a mystery."
There is only one copy, and it survived by chance, somehow making it into Lawrence Nowell's personal manuscript collection in the 16th century and then the collection of antiquarian Sir Robert Cotton, whose descendants donated the library to Great Britain, Batten said. The text even survived a disastrous fire in the Ashburnham House in Westminster, London, saved by a librarian who chucked it out the window just in time, Batten said.  
"We are incredibly lucky that 'Beowulf' survived at all," Batten said. "A huge number of medieval manuscripts have been completely lost. We don't know what we are missing. There are huge gaps in the historical record."  
And not only did the book itself survive, so has the story. "It is a book of 'elsewhere,' a book of monsters," Batten said. "I think what makes 'Beowulf' such a resonant poem all these centuries later is that question of who gets to be a human and who has to be a monster, one that continues to trouble us. This is a poem about humanity and a poem about identity." 
"Beowulf" has become an identity for Bagby. He first read the epic in seventh grade. "I loved it," he said. "It planted a seed that blossomed 20 years later." 
Described by Gruits as "one of the foremost interpreters of early music and medieval music," Bagby created the ensemble, Sequentia, with his late wife, Barbara Thornton, in 1977, and continues as its director.
In the 1990s he turned his attention to "Beowulf," thinking of it as not just literature but as a work that people "literally heard sung to them or spoken to them by somebody whose job that was to make it interesting," he said, "and I thought it must be possible to reconstruct that job, that person, and that function in society."