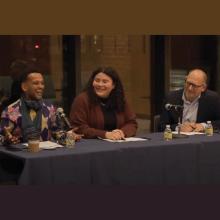 Penn English Discusses Black Panther: Wakanda Forever
The Department of English, the Cinema & Media Studies Program, the Center for Africana Studies, and the New Student Orientation & Academic Initiatives Office hosted a discussion panel focused on Black Panther: Wakanda Forever, this year's Winter Reading Project selection. The panel featured Penn English grad Arianna Qianru James alongside Professors Dagmawi Woubshet and Peter Decherney, with Professor Jean-Christophe Cloutier as moderator.
The event, which took place on November 30th, was livestreamed on YouTube and is available to watch in full at https://youtu.be/LYQPUt8omow.