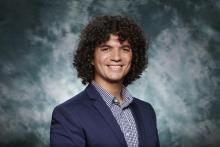 Dissertation Defense: Kenton Butcher
Ain't No Shame: Contemporary Passing Narratives in African American and South African Literature
Thursday, July 6, 2023 -

10:00am

to

12:00pm
FBH Faculty Lounge
Please join us on Thursday, July 6th, at 11 AM in the FBH Faculty Lounge, when Kenton Butcher will defend his dissertation, "Ain't No Shame: Contemporary Passing Narratives in African American and South African Literature."
Although "passing" tends to signify an antiquated American practice in which light-skinned African Americans present themselves and live, either temporarily or permanently, as white, this definition oversimplifies the phenomenon and its stakes. Flippant attention to passing neither grasps the complex cultural, affective, and historical dynamics at play nor the relationship between passing and structural conditions. Moreover, this definition ignores that passing continues into the twenty-first century as a feature of societies structured upon racial supremacy. To explore these dynamics, this dissertation compares American and South African passing narratives written between the late-twentieth and twenty-first century. Cognizant that racial formations develop along unique lines between global contexts, the project argues that the transnational comparison of passing helps to unveil the relationship between neoliberalism and iterations of "post-racial" ideology in both the United States and South Africa.
Recently, the concept of passing resurfaced in American culture due to instances of so-called "reverse passing." Given the shifts in social, economic, and political conditions from the "heyday" of passing narratives in the early twentieth century, scholars coined the term "neo-passing" both to describe the evolution of passing's contours under contemporary conditions and to recognize its historical connection to passing under Jim Crow segregation. Although racial passing has received far less attention in South African studies, numerous historical and literary examples of individuals crossing racial lines, "playing white," and so on appear in South African literature. Historical occurrences of passing — an "open secret" that was unrecognizable and inadmissible under apartheid — could be openly acknowledged during and following the Truth and Reconciliation Commission. But, like its American counterpart, rather than passing away following the transition to "nonracial" democracy, the phenomenon of passing persisted and evolved. Building on comparative scholarship that imbricates American "mixed race" and South African "coloured" studies, this dissertation argues that neoliberalism establishes its hegemony, in part, by appropriating the post-racial rhetoric of the Civil Rights and antiapartheid movements. To critique the narrative and interpretive effects of "post-racial" ideologies and their connection to neoliberalism, each chapter analyzes novels that exploit the tensions between the literary theme of racial passing, broader narrative frames, and their historical contexts.
Committee:Herman Beavers (chair) | Rita Barnard | Margo Crawford | Dagmawi Woubshet
The public presentation will begin in the FBH Faculty Lounge at 11 AM. At 12 PM, the committee and Kenton will adjourn to the private portion of the defense. We will reconvene in the lounge at 1 PM for a reception, where we'll toast the newly-minted Dr. Butcher!
For those joining virtually, please use the following Zoom link:
https://upenn.zoom.us/j/9422473881