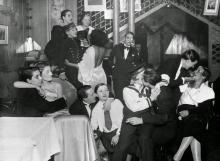 Tuesday, March 15, 2022 -

5:15pm

to

6:30pm
Location: Zoom
We're looking forward to seeing you next Tuesday, 3/15, from 5-630pm, for a virtual talk with Jill Richards (Yale). She will be giving a talk (cosponsored by Mod/Con) titled "The Queer Atlantic Triangle," drawn from her work-in-progress, This Body Called Empire.
Contact Avni Sejpal for Zoom info.
Abstract: "The Queer Atlantic Triangle," is taken from my current research project, which focuses on queer/trans histories through attention to the colonial port city, particularly through the rise of the biometric archives used to surveil both immigration and sexual deviance. In this accounting, the port city is a key site of racial mixture and sexual contagion, visible through the public space of the queer/trans nightclub and in the more private, domestic worlds of care work and sex work negotiated outside of the nuclear family. Rather than a national focus, this talk follows the transoceanic route as a key unit of analysis, making visible new geographies of sexuality based on the shipping itineraries that link port cities across the Atlantic, Indian, and Pacific Oceans.
Organizer(s): Avni Sejpal