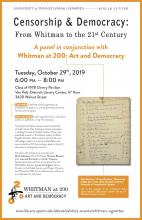 Censorship & Democracy: From Whitman to the 21st Century
A panel in conjunction with Whitman at 200: Art and Democracy
Tuesday, October 29, 2019 -

6:00pm

to

8:00pm
Class of 1978 Orrery Pavilion, Kislak Center, Van Pelt-Dietrich Library Center, 6th floor
https://www.library.upenn.edu/about/exhibits-events/whitman-vignettes?tab=7
Censorship is defined as the suppression or prohibition of speech or writing deemed subversive to the common good.  According to Oxford Reference, the official grounds for such control at a national level are variously political (e.g. national security), moral (e.g. likelihood of causing offence or moral harm, especially in relation to issues of obscenity), social (e.g. whether violent content might have harmful effects on behaviour), or religious (e.g. blasphemy, heresy). Some censorship may be imposed merely to avoid embarrassment (especially to governments).
Self-censorship is self-regulation by an individual author or publisher, or by 'the industry'. Media industries frequently remind their members that if they do not regulate themselves they will be regulated by the state. Self-censorship on the individual level includes the internal regulation of what one decides to express publically, often attributable to conformism.
The panel will explore issues around censorship and self-censorship, looking at recent examples, including the case of Anders Carlson-Wee, who published a poem in The Nation written in Black English (Carlson-Wee is white) and the 22-year-old college student and activist José Bello, who was arrested by ICE for reciting a poem critical of the nation's immigration tactics.
The panel includes
poet and educator Alicia Askenase, who has worked with national and regional poets over many years in New York, South Jersey, and Philadelphia
Herman Beavers, Professor of English and Africana Studies at Penn
poet Leonard Gontarek, who coordinates Peace/Works, Poetry In Common, and Philly Poetry Day and hosts The Green Line Reading & Interview Series
John Timpane, freelance theater and fine arts reporter for the Philadelphia Inquirer
Lynne Farrington, Senior Curator in the Kislak Center at the Penn Libaries and Project Director for Whitman at 200: Art and Democracy, will serve as the moderator.
Among the questions to be considered by the panel are:
How do we recognize censorship?
Is all censorship bad?
Should "freedom of speech" be absolute or limited, and who decides?
Is political correctness a form of censorship?
Do we have a right not to be offended?
Have you experienced censorship, and how did you respond?
The audience will be invited to participate in the conversation.