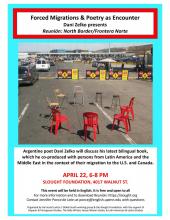 Slought: Forced Migrations & Poetry as Encounter
Dani Zelko presents Reunión: North Border / Frontera Norte
Monday, April 22, 2019 -

6:00pm

to

8:00pm
Slought Foundation, 4017 Walnut St. Philadelphia, PA 19104
Argentine poet Dani Zelko will discuss his latest bilingual book Reunión: North Border/Frontera Norte, which he co-produced with persons from Latin America, the Caribbean, and the Middle East in the context of their migration to the U.S. and Canada. Zelko will be in conversation with Dr. Jennifer Ponce de León, Assistant Professor of English at the University of Pennsylvania. 
Zelko is a poet from Buenos Aires who describes his practice as a search for an "affective conceptualism." His ongoing project Reunión is organized around a procedure in which invites strangers to write poems together. After spending time together, these persons dictate their stories to Zelko, who acts as their scribe. The next day, he prints the poems in chapbooks and organizes a gathering where the author will read his book, and other books from Reunión are also read. In the project's second phase, Zelko finds spokespersons for the writers, who then read the poems aloud in other towns. As he writes, "At the beginning, in an encounter, spoken word becomes written word. At the end, poems make possible an encounter where the written word becomes oral. Poems are at last between two persons instead of two pages."
To create Reunión: North Border / Frontera Norte, Zelko traveled through towns, rural communities, and border crossings in Mexico, the U.S. and Canada, where he met people who had been forced to leave their homes – in Mexico, Guatemala, El Salvador, Iraq, Jordan, Haiti, Cuba -– and migrate to North America.  Reunión: North Border is a collection of their life stories. It also includes analyses of contemporary migration by leading intellectuals from Colombia, Mexico, and Argentina.
This event will be held in English and is free and open to all. For more information and to download Reunión: North Border, see https://slought.org
Contact Jennifer Ponce de León with any questions at poncej@english.upenn.edu 
Organized by the Social Justice / Global South working group and the Slought Foundation, with co-sponsorship by Hispanic & Portuguese Studies, The Kelly Writers House Wexler Studio, and the Latin American & Latino Studies program