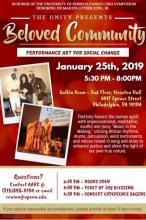 The Unity Presents Beloved Community: Performance Art for Social Change
Friday, January 25, 2019 -

5:30pm

to

8:00pm
Golkin Room, Houston Hall 2nd Floor, 3417 Spruce Street
We hope you will join us in spirit and in person this coming Friday, January 25th, to celebrate and co-create the Beloved Community inspired by Dr. Martin Luther King, Jr. and his work for peace, justice, and equality, with an end to racism, war, and poverty. 
It will be an evening of music, drumming, songs and stories, laughter and connection. The program will begin with libations and a light dinner at 6 p.m. in the reception area adjoining the Golkin Room. Our interactive concert will begin at 6:30 p.m. 
This event, sponsored by the University of Pennsylvania's 23rd Symposium Honoring Dr. King, is Free and Open to the Public.
Directions: 
The event will be held on the second floor of Houston Hall--in the Golkin Room. The front entrance to Houston Hall, at 3417 Spruce Street, has steps leading up to the first floor. A pathway between Houston Hall and Williams leads to Penn Commons and a back entrance to the building that involves no steps or climbing. Once inside Houston Hall, you can take the elevator or walk up stairs to the second floor. The Golkin Room is at the top of the stairs.
If you are driving, you may find parking on the street or in parking lots--one on Spruce Street by the hospital, the parking garage by the museum (33rd and Spruce) or 36th and Chestnut.