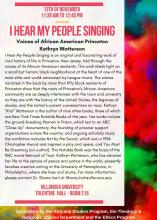 Villanova University: Kathryn Watterson, "I Hear My People Singing"
Tuesday, November 13, 2018 -

11:30am

to

12:45pm
Villanova University, Tolentine Hall, room 215
Author Kathryn Watterson will be visiting Villanova University to talk about her new book, I Hear My People Singing. I Hear My People Singing is an original and fascinating work of vivid history of life in Princeton, New Jersey, told through the voices of its African-American residents. This work sheds light on a small but historic black neighborhood at the heart of one of the most elite and world-renowned Ivy League towns. The stories narrated in the book by more than fifty black residents of Princeton show that the roots of Princeton's African-American community are as deeply intertwined with the town and university as they are with the history of the United States, the legacies of slavery, and the nation's current conversations on race. 
Kathryn "Kitsi" Watterson is the author of nine other books, three of which are New York Times Notable Books of the year. Her works include the ground-breaking Women in Prison, which led to an ABC "Close Up" documentary, the founding of prisoner support organizations across the country, and ongoing scholarly study. Her nonfiction includes Not by the Sword, which won a 1996 Christopher Award and inspired a play and opera, and You Must Be Dreaming (co-author). This Notable Book was the basis of the NBC movie Betrayal of Trust. Kathryn Watterson, who has devoted her life to the service of peace and justice in the world, presently teaches creative writing at the University of Pennsylvania, in Philadelphia, where she lives and drums. 
This presentation is sponsored by the Africana Studies Program, the Theology & Religious Studies Department and the Ethics Program at Villanova University. 
Visit this event posting at: https://www1.villanova.edu/villanova/artsci/theology/news_events/events.html