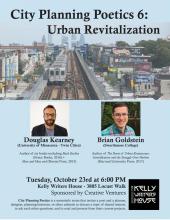 KWH: City Planning Poetics 6 - Urban Revitalization
With Brian Goldstein and Douglas Kearney, curated by Davy Knittle
Tuesday, October 23, 2018 -

6:00pm

to

7:00pm
Kelly Writers House, 3805 Locust Walk, Arts Cafe
Sponsored by: Creative Ventures
Curated by Davy Knittle, City Planning Poetics is a semesterly series that invites a poet and a planner, designer, planning historian, or other urbanist to discuss a topic of shared interest, to ask each other questions, and to read and present from their current projects.
BRIAN D. GOLDSTEIN is an architectural and urban historian and an assistant professor of architectural history at Swarthmore College. His research focuses on the intersection of the built environment, race and class, and social movements, especially in the United States. His writing includes the 2017 book The Roots of Urban Renaissance: Gentrification and the Struggle Over Harlem and articles appearing in the Journal of American History, Journal of Urban History, and the edited volumes Reassessing Rudolph; Affordable Housing in New York; and Summer in the City: John Lindsay, New York, and the American Dream. He is the recipient of fellowships and awards from the Graham Foundation for Advanced Studies in the Fine Arts, Society of Architectural Historians, Society for American City and Regional Planning History, Center for the Humanities at the University of Wisconsin-Madison, and Charles Warren Center for Studies in American History. Goldstein received his PhD from Harvard University and has taught previously at the University of New Mexico and the University of Wisconsin-Madison.
DOUGLAS KEARNEY has published six books, most recently, Buck Studies (Fence Books, 2016), winner of the Theodore Roethke Memorial Poetry Prize, the CLMP Firecracker Award for Poetry, and silver medalist for the California Book Award (Poetry). BOMB says: "[ Buck Studies] remaps the 20th century in a project that is both lyrical and epic, personal and historical." Kearney's collection of writing on poetics and performativity, Mess and Mess and (Noemi Press, 2015), was a Small Press Distribution Handpicked Selection that Publisher's Weekly called "an extraordinary book." His work has been exhibited at the American Jazz Museum, Temple Contemporary, Los Angeles Contemporary Exhibitions, and The Visitor's Welcome Center (Los Angeles). Raised in Altadena, CA, he lives with his family west of Minneapolis and teaches at the University of Minnesota–Twin Cities.