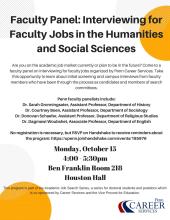 Faculty Panel: Interviewing for Faculty Jobs in the Humanities and Social Sciences
Presented by Penn Career Services
Monday, October 15, 2018 -

4:00pm

to

5:30pm
Ben Franklin Room 218, Houston Hall
Making a good impression during initial interviews and campus interviews will be the best way to convince search committees that you are the ideal candidate. This requires that you can talk effectively about yourself and your research and teaching, ask good questions to the faculty, administrators, and students that you will meet, and highlight how your particular knowledge and experiences set you apart from other candidates. Whether you are applying for a visiting assistant professor position or a tenure track faculty position at a college or university, it helps to be prepared for the types of questions you will be asked, and to understand what search committees are looking for.
Beyond the initial interview, the campus visit can also give you insight into what you might negotiate for if you receive an offer after the interview. Ask the panelists about their experiences, and learn from the best practices they share from their own experiences. Panelists include:
· Dr. Sarah Gronningsater, Assistant Professor, History, University of Pennsylvania
· Dr. Courtney Boen, Assistant Professor, Sociology, University of Pennsylvania
· Dr. Donovan Schaefer, Assistant Professor, Religious Studies, University of Pennsylvania
· Dr. Dagmawi Woubshet, Associate Professor, English, University of Pennsylvania
Take this opportunity to learn about initial screening and campus interviews from faculty members who have been through the process as candidates and members of search committees.
No registration is necessary, but RSVP on Handshake to receive reminders about the program: https://upenn.joinhandshake.com/events/185976
This program is part of the Academic Job Search Series, a series for doctoral students and postdocs which is co-sponsored by Career Services and the Vice Provost for Education. You can see the complete set of Academic Job Search Series programs and other interesting programs and workshops organized for this semester on the Career Services website by clicking https://www.vpul.upenn.edu/careerservices/files/Academic_Job_Search_Series_2018-2019_Flyer_1534965681.pdf