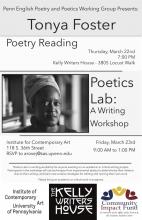 Wednesday, February 21, 2018 -

5:00pm

to

6:30pm

Thursday, February 22, 2018 -

7:00pm

to

8:30pm

Friday, February 23, 2018 -

9:00am

to

1:00pm
Readings: Temple University's North Philadelphia campus on Wednesday, March 21st; Kelly Writers House on Thursday, March 22nd
Workshop: Institute for Contemporary Art on Friday, March 23rd
On behalf of the Poetry and Poetics working group, we are both excited to invite you to Poetics Lab: A Writing Workshop, an event we've been putting together, and for which we're bringing the poet and scholar Tonya Foster.
Tonya is most recently the author of A Swarm of Bees in High Court (Belladonna 2015). With Kristin Prevallet, she coedited the collection, Third Mind: Creative Writing through Visual Art (Teachers & Writers Collaborative 2002). She is an Assistant Professor at California College of the Arts.
Poetics Lab is a writing workshop for members of the Penn community, members of other university communities, and writers in the area for the half-day workshop to teach creative strategies that use poetic editing to revitalize their academic writing. To participate in the workshop, we ask that you bring a piece of academic writing in progress. This can be a seminar paper, an article, a chapter or anything in between. Tonya will teach strategies for working with and editing that text using approaches from poetics and creative writing. In addition to learning these procedures, participants will work in groups to experiment with their writing and reflect on the process of the workshop. Participants will take away from the workshop a set of practices that they can continue to use in their future writing and editing.
The workshop will run from 9:00 AM - 1:00 PM in the Institute for Contemporary Art on Friday, March 23rd. Breakfast and lunch will be served.
Foster will also give a poetry reading at 5:00 PM at Temple University's North Philadelphia campus on Wednesday, March 21st, and a poetry reading at the Kelly Writers House at 7:00 PM on Thursday, March 22nd. We would love to have you join us. If you'd like to participate please RSVP to arosej@sas.upenn.edu or dknittle@sas.upenn.edu.