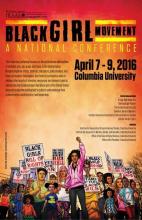 Black Girl Movement: A National Conference
Thursday, April 7, 2016 - 5:00pm

to

Saturday, April 9, 2016 - 7:30pm
Columbia University
Co-organized by Penn professor Salamishah Tillet, "Black Girl Movement: A National Conference" is a three-day gathering at Columbia University on April 7 to April 9, 2016 in New York City to focus on Black girls, cis, queer, and trans girls, in the United States.   Bringing together artists, activists, educators, policymakers, and black girls leaders themselves, this historic conference on Black girls seeks to address the disadvantages that Black girls in the United States face, while creating the political will to publicly acknowledge their achievements, contributions, and leadership.
"Black Girl Movement" is an opportunity to raise public consciousness, advance research, policy, and community programming, and develop a resource sharing platform.  Most importantly, this conference will highlight Black girls' agency and ingenuity in order to elevate their voices and solutions toward improving the life outcomes of Black girls in the United States.
See schedule and more information at conference website.