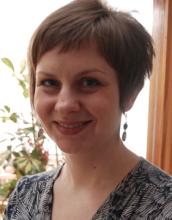 Material Texts: Eva Mroczek, "Shapes of Scriptures: Native 'Book Histories' and the Non-Biblical Library of Early Judaism"
Monday, September 21, 2015 -

5:15pm

to

8:00pm
Class of 1978 Pavilion
Kislak Center
6th Floor of Van Pelt-Dietrich Library
Please join us this coming Monday, September 21 for the next meeting of the Workshop in the History of Material Texts. We will convene at our usual time and place: 5:15pm in the Class of 1978 Pavilion in the Kislak Center on the 6th Floor of Van Pelt-Dietrich Library.     
We will be welcoming Eva Mroczek (University of California Davis) for a talk entitled "Shapes of Scriptures: Native 'Book Histories' and the Non-Biblical Library of Early Judaism."
Eva writes:
The discovery of the Dead Sea Scrolls revealed a world of early Jewish writing larger than the Bible: from multiple versions of biblical texts, to "revealed" books not found in Jewish or Christian canons. Indeed, most scholars now agree that no fixed or closed "biblical canon" existed before Late Antiquity. And yet, because the Bible as the central Holy Book is so culturally iconic, it has been difficult to imagine a world in which sacred writing was conceived in any other way. This talk will consider how we might reimagine the way that Jews understood their own literature before the categories of "book" and "Bible" were available - not in terms of a "proto-Bible," but as an imagined literary world that took fundamentally different shapes in the minds of early Jewish writers. I take into account the way that the modern publication history of non-biblical early Jewish texts, from the 18th century to today, has bolstered the unity and uniqueness of the Bible, and built a particular mental architecture for thinking about ancient literary concepts that is difficult to dismantle. I then turn to ancient Jewish sources themselves—with examples from Psalms, Ben Sira, and the Book of Jubilees—to uncover a native "book history": ancient theories of what texts are like, who wrote them, and where they can be found. The picture that emerges is of an imagined repertoire of sacred texts that exist in multiple locations, and stretch back to the dawn of time: prolific, wildly varied, and never fully available in actual scribal products. Perhaps the sacredness of these texts in the pre-canonical literary imagination depends, in part, on this very proliferation and elusiveness, their refusal to be contained—a concept of sacred text that stands in stark contrast with the idea of the Bible as the one, closed, and complete corpus of revelation.
Eva Mroczek (PhD 2012, University of Toronto) is Assistant Professor of Premodern Judaism at the Department of Religious Studies at UC Davis. Her first book, The Literary Imagination in Jewish Antiquity, is in press with Oxford University Press. Her work on the literature of Hellenistic and Early Roman Judaism has appeared in venues like the Journal of Ancient Judaism, Judaisme ancien, the Journal for the Study of Judaism, and Book History. She has also contributed to Religion Dispatches and the Marginalia Review of Books. 
All are welcome! Please forward this email widely to any who might be interested. Those who do not hold University of Pennsylvania ID cards should bring another form of photo identification in order to enter the library building. 
We look forward to seeing you there,
Jerry Singerman
Senior Humanities Editor, University of Pennsylvania Press
John Pollack
Kislak Center for Special Collections, Rare Books and Manuscripts
Alan Niles
Brizdle-Schoenberg Fellow in the History of Material Texts