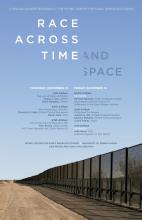 Race Across Time and Space
Thursday, November 13, 2014 (All day)

to

Friday, November 14, 2014 (All day)
McNeil Center
http://www.english.upenn.edu/Conferences/RaceAcrossTimeAndSpace
Please join us next month, November 13-14, for this exciting line up of talks and films sponsored by the Mellon Sawyer Seminar, the McNeil Center, Cinema Studies, and the Biocode Series!
All events at the McNeil Center, EXCEPT for Thursday evening's 6-8pm film screening and director's talk with Alex Rivera (see alexrivera.com), who will show his US/Mexico border SciFi thriller, Sleep Dealer, as well other special surprises, in 401 Fisher Bennett Hall.
Featuring keynotes by Herman Bennett (CUNY Grad Center) and Ada Ferrer (NYU), and talks by bunch of brilliant UPenn graduate students as well as former and current McNeil fellows.
Thursday, November 13
1:00-2:30pm
Textures of Race and Caste
Howie J. Tam, UPenn
Clare Mullaney, UPenn
3:00-4:30pm
Afro/Indigenous Atlantics
Demetri D. Debe, McNeil Center/Minnesota
Mairin Odie, NYU
6:00-8:00pm
Film screening and director's talk
Alex RIvera, Sleep Dealer
401 Fisher-Bennett Hall, 3340 Walnut St.
Friday, November 14
10:00-11:30am
KEYNOTE
Herman Bennett, CUNY Graduate Center
Sovereignty and the Politics of Difference in the Early Modern Atlantic
2:00-3:45pm
Embodied Exchanges
Justine G. Hill, McNeil Center/Princeton
Carolyn Roberts, McNeil Center/Harvard
Lynne Feeley, Duke
4:15-5:30pm
KEYNOTE
Ada Ferrer, NYU
A Black Kingdom of this World