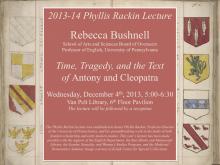 Phyllis Rackin Lecture 2013-14
Wednesday, December 4, 2013 -

5:00pm

to

6:30pm
Van Pelt Library, 6th Floor Pavilion
Rebecca Bushnell
School of Arts and Sciences Board of Overseers Professor of English, University of Pennsylvania
Time, Tragedy, and the Text of Antony and Cleopatra
December 4, 2013, 5:00-6:30 pm
Van Pelt Library, 6th Floor Pavilion
The lecture will be followed by a reception
Rebecca writes: This lecture is part of a project on time in tragedy, where I am asking how the materiality of dramatic media can shape or disrupt our temporal experience of a play. I will explore the temporality of Shakespeare's Antony and Cleopatra, as its story, performance and text enact a struggle for mastery of historical and experiential time. In particular, I will focus on how editors from Rowe to Rasmussen have engaged in that same struggle, attempting to control the play's "infinite variety." 
Rebecca Bushnell writes and teaches about the genre of tragedy and early modern English culture. Her books include Prophesying Tragedy: Sign and Voice in Sophocles' Theban Plays; Tragedies of Tyrants: Political Thought & Theater in The English Renaissance; A Culture of Teaching: Early Modern Humanism in Theory and Practice; and Green Desire, a study of early modern English gardening books. HerCompanion to Tragedy was published by Blackwell in 2005 and her  Tragedy: A Short Introduction, was published by Blackwell in 2007. She has received an ACLS research fellowship and the Lindback Award for Distinguished Teaching, as well as an NEH grant for Teaching with Technology. Professor Bushnell served as Associate Dean for the Humanities in the School of Arts and Sciences from 1998-2003, Dean of the College of Arts and Sciences from 2003-2004, and Dean of the School of Arts and Sciences from 2005-2013.  She is currently the Vice President of the Shakespeare Association of America and will serve as President of the SAA begininng in 2014. She is also a member of the Board of Trustees of the Library Company of Philadelphia and Princeton Day School, and a member of the Advisory Board of Overseers of the Morris Arboretum.
The Phyllis Rackin Lecture was established to honor Phyllis Rackin, Professor Emerita of English at the University of Pennsylvania, and her groundbreaking work in the fields of both feminist scholarship and Early Modern studies. A former President of the Shakespeare Association of America, she has published numerous scholarly articles on Shakespeare and related subjects in anthologies and in such journals as PMLA, Shakespeare Quarterly, and Shakespeare-Jahrbuch. She has also published four books on Shakespeare:Shakespeare's Tragedies; Stages of History: Shakespeare's English Chronicles; and Engendering a Nation: A Feminist Account of Shakespeare's English Histories, which she wrote in collaboration with Professor Jean Howard of Columbia University; and Shakespeare and Women. Her awards include an ACLS fellowship and a Lindback award for distinguished teaching.
This year's Lecture is made possible through the generous support and sponsorship of the English Department, the Rare Book and Manuscript Library, the Gender, Sexuality, and Women's Studies Program, and the Medieval-Renaissance Seminar.