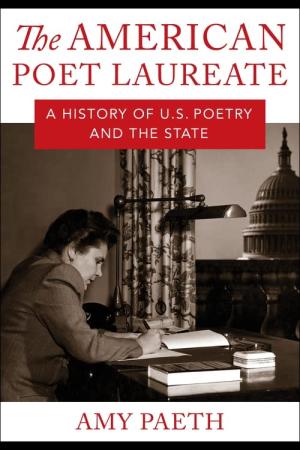 The American Poet Laureate
A History of U.S. Poetry and the State
Columbia University Press
---
https://cup.columbia.edu/book/the-american-poet-laureate/9780231194396
Advance Praise
Winner of the Northeast Modern Language Association's Annual Book Award

Amy Paeth's book is a study of why poetry is, as T. S. Eliot claimed, so stubbornly national. Focusing on poet laureates, Cold Warriors, cultural diplomats, and inaugural poets, she historicizes and complicates this relationship. It's the best sort of literary scholarship: smart, surprising, and field-changing. –Juliana Spahr, author of Du Bois's Telegram: Literary Resistance and State Containment
The American Poet Laureate is a compelling tale of intrigue, clashing nationalist politics, and the forging of what Paeth chillingly calls "state verse culture." Starting with the amazing tale of Ezra Pound's Bollingen Prize quickly followed by a detailed account of Robert Frost's triumphalist inaugural poem, Paeth shows how the state's investment in poetry often masks the ideological construction of both poetry and America. –Charles Bernstein, author of Topsy-Turvy
Why The American Poet Laureate hasn't been written until now is perplexing, but Amy Paeth's enterprising report makes the wait worthwhile. Her diligent archival trawl is put to vivid and informative use throughout, and bringing the story up to the present combines historical perspective with news of the day. This is not just a book, it's a public service, deftly revealing how "craft" is always also statecraft. –Jed Rasula, author of The American Poetry Wax Museum: Reality Effects, 1940-1990
The U.S. poet laureateship was established during eras of global hot and then cold wars. Thus it was bound to get caught up in every manner of issue and problem except, even, at times, the poetic! Can one poet's verse be aptly deemed official? Can a multi-regional, multi-cultural immigrant nation successfully and persuasively choose a single notion of verse to represent it?  Amy Paeth tells the whole fascinating story for the first time here. This book is a triumph of convergent modes of literary and institutional history. –Al Filreis, University of Pennsylvania
This is a surprising, provocative, and convincing history of ongoing efforts by poetry's advocates to borrow authority from state agencies. Poets from Robert Frost to Joy Harjo make plans for readers, could-be readers―even politicians. Now this art has honorable, reasonable intentions. Problem solved? –Robert von Hallberg, author of Lyric Powers
About the Book
The American Poet Laureate shows how the state has been the silent center of poetic production in the United States since World War II. It is the first history of the national poetry office, the U.S. poet laureate, highlighting the careers of Elizabeth Bishop, Robert Frost, Gwendolyn Brooks, Robert Pinsky, Tracy K. Smith, Juan Felipe Herrera, and Joy Harjo at the nation's Capitol. It is also a history of how these state poets participated in national arts programming during the Cold War.
Drawing on previously unexplored archival materials at the Library of Congress and materials at the John F. Kennedy Presidential Library, I describe the interactions of federal bodies, including the Central Intelligence Agency, the State Department, and the National Endowment for the Arts, with literary organizations and with private patrons, including "Prozac heiress" Ruth Lilly. The consolidation of public and private interests is crucial to the development of state verse culture, recognizable at the first National Poetry Festival in 1962, which followed Robert Frost's "Mission to Moscow," and which became dominant in the late 1990s and early 2000s.
The American Poet Laureate contributes to a growing body of institutional and sociological approaches to U.S. literary production in the postwar era and demonstrates how poetry has played a uniquely important, and largely underacknowledged, role in the cultural front of the Cold War.