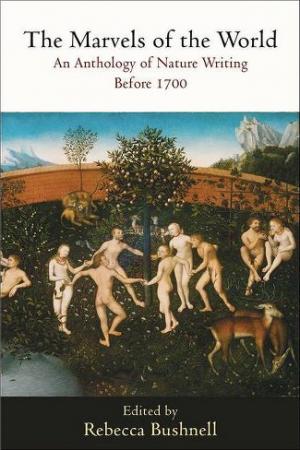 The Marvels of the World
An Anthology of Nature Writing Before 1700
University of Pennsylvania Press
---
https://www.upenn.edu/pennpress/book/16214.html
Long before the Romantics embraced nature, people in the West saw the human and nonhuman worlds as both intimately interdependent and violently antagonistic. With its peerless selection of ninety-eight original sources concerned with the natural world and humankind's place within it, The Marvels of the World offers a corrective to the still-prevalent tendency to dismiss premodern attitudes toward nature as simple or univocal.
Gathering together medical texts, herbals, and how-to books, as well as scientific, religious, philosophical, and poetic works dating from antiquity to the dawn of the Enlightenment, the anthology explores both mainstream and unconventional thinking about the natural world. Its seven parts focus on philosophy and science; plants; animals; weather and climate; ways of inhabiting the land; gardens and gardening; and European encounters with the wider world. Each section and each of the book's selections is prefaced with a helpful introduction by volume editor Rebecca Bushnell that weaves connections among these compelling pieces of the past. The early writers collected here wrote with extraordinary openness about ways of coexisting with the nonhuman forces that shaped them, Bushnell demonstrates, even as they sought to control and exploit their environment. Taken as a whole, The Marvels of the World reveals how many of these early writers cared as much about the natural world as we do today.
Rebecca Bushnell is the School of Arts and Sciences Board of Overseers Emerita Professor of English at the University of Pennsylvania and author of Green Desire: Imagining Early Modern English Gardens among other books.