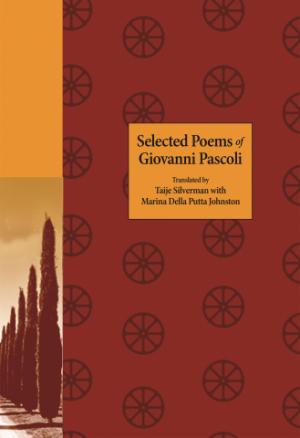 Selected Poems of Giovanni Pascoli
Princeton University Press
---
The most comprehensive collection in English of the founder of modern Italian poetry
Giovanni Pascoli (1855–1912)—the founder of modern Italian poetry and one of Italy's most beloved poets—has been compared to Robert Frost for his evocation of natural speech, his bucolic settings, and the way he bridges poetic tradition and the beginnings of modernism. Featuring verse from throughout his career, and with the original Italian on facing pages, Selected Poems of Giovanni Pascoli is a comprehensive and authoritative collection of a fascinating and major literary figure.
Reading this poet of nature, grief, and small-town life is like traveling through Italy's landscapes in his footsteps—from Romagna and Bologna to Rome, Sicily, and Tuscany—as the country transformed from an agrarian society into an industrial one. Mixing the elevated diction of Virgil with local slang and the sounds of the natural world, these poems capture sense-laden moments: a train's departure, a wren's winter foraging, and the lit windows of a town at dusk. Incorporating revolutionary language into classical scenes, Pascoli's poems describe ancient rural dramas—both large and small—that remain contemporary.
Framed by an introduction, annotations, and a substantial chronology, Taije Silverman and Marina Della Putta Johnston's translations render the variety, precision, and beauty of Pascoli's poetry with a profoundly current vision.
"Italian modernist poetry begins not, as everywhere else, in the anonymous city, but in the lore, sights, and especially the sounds of Giovanni Pascoli's peasant village. The closely perceived local becomes, without rhetorical flourishes, the universal, and in this brilliant translation yesterday's Italian becomes today's American English."—Eliot Weinberger
"This is a lyrical and learned introduction to one of modern Italy's essential poets. The quiet openness and aesthetic finesse of Pascoli's 'little' poems sound far truer to us today than the ringing odes of his near-contemporaries Carducci and D'Annunzio. It is Pascoli, in the end, who speaks to us most hauntingly and memorably. Silverman and Johnston have brought him wonderfully alive for contemporary readers."—Jonathan Galassi
"This sensitive translation makes accessible to a new audience of English-language readers a body of work that often has the beautiful, lucid simplicity and compelling complexity of haiku, while capturing the mysterious depths of loss, longing, and evil. This exquisitely crafted bilingual volume is a gift to all who cherish the renewal of perception and understanding of our shared humanity, which only the great poets, like Pascoli, can provide."—Rebecca West, University of Chicago
"What a marvelous book! Here at long last is a true rendering of the first modern in Italian poetry, a quiet foundational figure poised between centuries, a secret force akin to Thomas Hardy and Robert Frost. These translations of Giovanni Pascoli shine with the tears of things."—Edward Hirsch, author of Gabriel: A Poem