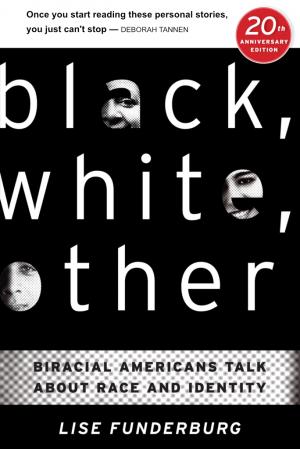 Black, White, Other
Biracial Americans Talk About Race and Identity
---
The groundbreaking oral history, Black, White, Other, made its mark by being the first book to ask black/white biracial people to speak for themselves on matters of race and identity. In the book, journalist Lise Funderburg presents the lives and views of forty-six adult children of black-white unions. Topics include love and marriage, racism in the workplace, religion, community, and bringing up children in a racially divided world.
First published in 1994, Black, White, Other continues to be a relevant and seminal resource in discussions of race in America. Now available in an expanded 20th anniversary edition, it features updated commentary from Lise Funderburg and a foreword by novelist Mat Johnson.
Black, White, Other is not only for the millions of biracial Americans who have yet to see themselves accurately rendered on the page, but also for everyone interested in the subject of race and the prospects for achieving true pluraism in America. The New York Times lauded the book as "important...an example of how we can talk about race with feeling, humor, and dignity." The Buffalo News wrote that the "pages seethe with a tapestry of life....No book is more likely to force a reader to confront his beliefs about race than this one." And The Indianapolis Star noted that "Funderburg lets her subjects ask-and answer-the controversial, touchy questions that many wonder but few dare to pose."