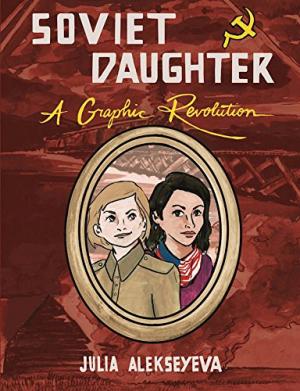 Soviet Daughter
A Graphic Revolution
---
Soviet Daughter provides a window into the life of a rebellious, independent woman coming of age in the USSR, and the impact of her story and her spirit on her American great-granddaughter, two extraordinary women swept up in the history of their tumultuous times.
Soviet Daughter is the story of Julia Alekseyeva's great-grandmother Lola. Born in 1910 to a poor, Jewish family outside of Kiev, Lola lived through the Bolshevik revolution, a horrifying civil war, Stalinist purges, and the Holocaust. She taught herself to read, and supported her extended family working as a secretary for the notorious NKVD (which became the KGB) and later as a lieutenant for the Red Army. Her family, including 4-year-old Julia, immigrated to the U.S. as refugees in the wake of Chernobyl and forged a new life. Interleaved with Lola's history we find Julia's own struggles of coming of age in an immigrant family and her political awakening in the midst of the radical politics of the turn of the millennium.
At times heartbreaking and at times funny, this graphic novel memoir unites two generations of strong, independent women against a sweeping backdrop of the history of the USSR. Like Sarah Glidden in How to Understand Israel in 60 Days or Less, or Marjane Satrapi in Persepolis, Alekseyeva deftly combines compelling stories of women finding their way in the world with an examination of the ties we all have with our families, ethnicities, and the still-fresh traumas of the 20th century.