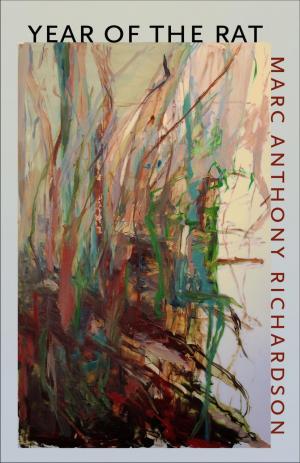 Year of the Rat
---
2017 American Book Award Winner
2015 Ronald Sukenick Innovative Fiction Prize Winner
Marc Anthony Richardson's Year of the Rat is a poignant and riveting literary debut narrated in an unabashedly exuberant voice.
In Year of the Rat, an artist returns to the dystopian city of his birth to tend to his invalid mother only to find himself torn apart by memories and longings. Narrated by this nameless figure whose rants, reveries, and Rabelaisian escapades take him on a Dantesque descent into himself, the story follows him and his mother as they share a one-bedroom apartment over the course of a year.
Despite his mother's precarious health, the lingering memories of a lost love, an incarcerated sibling, a repressed sexuality, and an anarchic inability to support himself, he pursues his dream of becoming an avant-garde artist. His prospects grow dim until a devastating death provides a painful and unforeseeable opportunity. With a voice that is poetic and profane, ethereal and irreverent, cyclical and succinct, he roams from vignette to vignette, creating a polyphonic patchwork quilt of a family portrait.

"Trust me, you've never read anything like Marc Anthony Richardson's Year of the Rat, and you must stop everything you're doing right now and make time for it. Gorgeous, unsparing, heartbreaking, the book is a prose poem of a testament to motherhood, to manhood, to lost generations, to hope itself."
—Cristina García, Guggenheim Fellow, and author of King of Cuba and The Lady Matador's Hotel
"In language that is at times phantasmagoric, at times ribald, and always beautiful, Marc Anthony Richardson's debut novel astounds. Bold, provocative, and ambitious: we have a new, indispensable voice in American letters."
—Micheline Aharonian Marcom, Lannan Fellow, and author of Three Apples Fell from Heaven and The Mirror in the Well
"Even the most challenging of transgressive writers pales in comparison... Technically a novel, it will make all but the most experimental of readers throw it across a room."
—Kirkus Reviews
"Richardson has found a way to describe in words the inability to understand other people—he uses dense prose that circles on itself and leaps from present to flashback, depicting a muddled mind at work...once readers enter the story it's easy to be swept into its stormy momentum, and to acknowledge the very promising start of the author's career. "
—Publishers Weekly