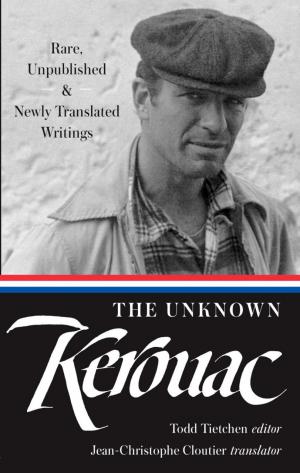 The Unknown Kerouac
Rare, Unpublished, & Newly Translated Writings
---
Edited by Todd Tietchen (UMass-Lowell) and published with unprecedented access to the Kerouac archives, The Unknown Kerouac presents two lost novels, The Night Is My Woman and Old Bull in the Bowery, which Kerouac wrote in French during the especially fruitful years of 1951 and 1952. Discovered among his papers in the mid-nineties, they have been translated into English for the first time by the University of Pennsylvania's Jean-Christophe Cloutier, who incorporates Kerouac's own partial translations.
Also included are two journals from the heart of this same crucial period. In Private Philologies, Riddles, and a Ten-Day Writing Log, Kerouac recounts a brief stay in Denver—where he works on an early version of On the Road, reads dime novels, and even rides in a rodeo—and shows him contemplating writers like Chaucer and Joyce and playing with riddles and etymologies. Journal 1951, begun during a stay in a Bronx VA hospital, charts, in ecstatic, moving, and self-revealing pages, the wave of insights and breakthroughs that led Kerouac to the most singular transformation of American prose style since Hemingway.
This landmark volume is rounded out with the memoir Memory Babe, a poignant evocation of childhood play and reverie in a robust immigrant community, in which Kerouac uncannily retrieves and distills the subtlest sense impressions. And finally, in an interview with his longtime friend and fellow Beat John Clellon Holmes and in the late fragment Beat Spotlight Kerouac reflects on his meteoric career and unlooked for celebrity.