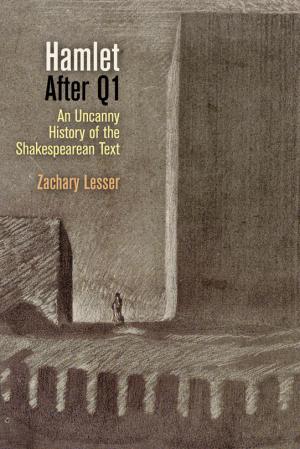 Hamlet After Q1: An Uncanny History of the Shakespearean Text
University of Pennsylvania Press
---
"Lesser's great achievement ... is to show why textual bibliography matters .... This highly original book thrusts bibliography up from the footnotes and into the footlights ...."  -- Times Literary Supplement
"Hamlet after Q1 is an intellectual tour de force--lively, engaging, and very convincing. It should be required reading for all Shakespeareans." -- Textual Cultures
In 1823, Sir Henry Bunbury discovered a badly bound volume of twelve Shakespeare plays in a closet of his manor house. Nearly all of the plays were first editions, but one stood out as extraordinary: a previously unknown text of Hamlet that predated all other versions. Suddenly, the world had to grapple with a radically new—or rather, old—Hamlet in which the characters, plot, and poetry of Shakespeare's most famous play were profoundly and strangely transformed.
Q1, as the text is known, has been declared a rough draft, a shorthand piracy, a memorial reconstruction, and a pre-Shakespearean "ur-Hamlet," among other things. Flickering between two historical moments—its publication in Shakespeare's early seventeenth century and its rediscovery in Bunbury's early nineteenth—Q1 is both the first and last Hamlet. Because this text became widely known only after the familiar version of the play had reached the highest pinnacle of English literature, its reception has entirely depended on this uncanny temporal oscillation; so too has its ongoing influence on twentieth- and twenty-first-century ideas of the play.
Zachary Lesser examines how the improbable discovery of Q1 has forced readers to reconsider accepted truths about Shakespeare as an author and about the nature of Shakespeare's texts. In telling the story of this mysterious text and tracing the debates in newspapers, London theaters, and scholarly journals that followed its discovery, Lesser offers brilliant new insights on what we think we mean by Hamlet.