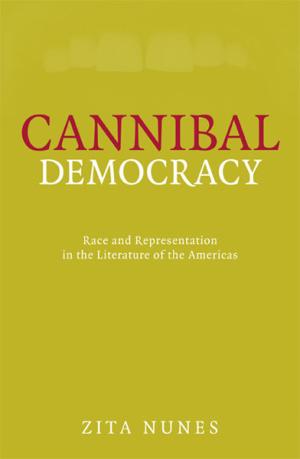 Cannibal Democracy
Race and Representation in the Literature of the Americas
Minnesota University Press
---
Zita Nunes argues that the prevailing narratives of identity formation throughout the Americas share a dependence on metaphors of incorporation and, often, of cannibalism. From the position of the incorporating body, the construction of a national and racial identity through a process of assimilation presupposes a remainder, a residue.
Nunes addresses works by writers and artists who explore what is left behind in the formation of national identities and speak to the limits of the contemporary discourse of democracy. Cannibal Democracy tracks its central metaphor's circulation through the work of writers such as Mário de Andrade, W. E. B. Du Bois, and Toni Morrison and journalists of the black press, as well as work by visual artists including Magdalena Campos-Pons and Keith Piper, and reveals how exclusion—understood in terms of what is left out—can be fruitfully understood in terms of what is left over from a process of unification or incorporation.
Nunes shows that while this remainder can be deferred into the future-lurking as a threat to the desired stability of the present—the residue haunts discourses of national unity, undermining the ideologies of democracy that claim to resolve issues of race.