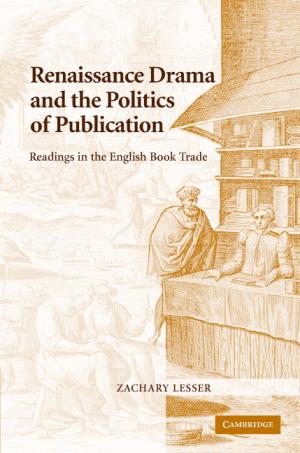 Renaissance Drama and the Politics of Publication
---
Renaissance Drama and the Politics of Publication: Readings in the English Book Trade
(Cambridge University Press, 2004; paperback, 2007).
Shifting our focus from author to publisher and from first performance to first edition, this book offers a vantage point on the drama of Shakespeare, Marlowe, Webster, and their contemporaries. Renaissance Drama and the Politics of Publication re-imagines the reception and meaning of plays by reading them through the eyes of their earliest publishers. Since success in the book trade required specialization, locating a play within its publisher's output allows us to see how the publisher read it and speculated that customers would read it. Their readings often differ radically from our own and so revise our views of the drama's engagement with early modern culture. By reading the 1633 Jew of Malta as a part of Nicholas Vavasour's Laudian specialty, for example, or the 1622 Othello in the context of Thomas Walkley's trade in parliamentary news, this study reveals the politics of these publications - for early modern readers and for us.
 
Winner of the Elizabeth Dietz Award for best book in Renaissance Studies