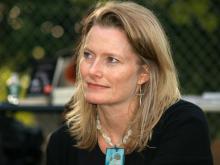 The Daily Pennsylvanian Covers Penn English Jennifer Egan Event
See this coverage as it originally appeared in The Daily Pennsylvanian: https://www.thedp.com/article/2023/10/bestselling-author-jennifer-egan-p...
Pulitzer-Prize winning author Jennifer Egan shares advice at Penn English Department event
New York Times bestselling author and 1985 College graduate Jennifer Egan spoke at an event hosted by Penn's English Department, discussing her novels and future work.
The event, which took place on Oct. 17 at Fisher-Bennett Hall, was open to any student, regardless of major, and about 40 people attended. College senior and 34th Street writer Jean Paik moderated the discussion before opening it up for a Q&A from the audience. 
Egan, a recipient of the 2011 Pulitzer Prize, previously wrote six novels, including "A Visit from the Goon Squad" and "The Candy House." At the event, she hinted at the possibility of adding to her existing work.
She also reflected on the label of The Great American Novel, bestowed to her by The Economist, and how honored she felt to be one of the first women to earn the title. 
As a Penn alum, Egan shared advice for students exploring their interests, encouraging them to take the classes they want to at Penn. 
"That insecurity and the anxiety about what everyone else is doing — all of that becomes at a greater distance," Egan said. 
College first-year Samantha Hsiung said hearing about Egan's writing process was inspiring. 
"Listening to her talk about how she has difficulties writing poetry was something that I really identified with and found fascinating because I really like writing poetry myself,"  Hsiung said.
Many students in Professor Jed Esty's Fiction and Connectivity English class, where Egan's work is read, were in attendance. 
"It's a unique experience to read the book and get to meet the author," College junior Molly Bradley, one student in Esty's class, said. 
"In addition to being a major novelist and an important cultural figure, Egan is really committed and invested in the life and health of humanities education," Esty said. 
Egan also spoke of the importance of free speech, reflecting on her time as president of Poets, Essays, and Novelists of America, an organization dedicated to preserving free expression in literature. 
"She is what I would call a true believer in the arts and literary study — in the value of fiction and its ongoing impact in our lives" English Department Undergraduate Chair Jean-Christophe Cloutier said. 
During the Q&A, audience members asked questions about her character work. Egan spoke about how characters do not live in her head before they are written into existence. She also talked about how she is to draw from the people in her personal life when writing.
Egan said she is currently working on crime fiction and a long-form journalism piece on homelessness. She reflected on her writing methods, saying that she is consuming a lot of crime fiction due to the genre she is currently working in. 
Cloutier also spoke of the upcoming Winter Reading Project, in which over 200 copies of "The Candy House" will be available for distribution. 
"Anybody who's willing to read it over the break or has already read it and wants to partake in the event, we're going to have a panel discussion about it on January 23," Cloutier said.