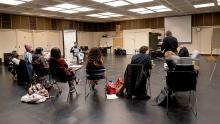 Professor of English Heather Love and Senior Lecturer in Theatre Arts Brooke O'Harra in OMNIA
See this coverage as it originally appeared on the School of Arts & Sciences OMNIA website: https://omnia.sas.upenn.edu/story/Queer-Archives-course-reveals-hidden-h...
Hidden Histories Revealed
Students in a course taught by Professor of English Heather Love and Senior Lecturer in Creative Writing Brooke O'Harra bring queer archival materials to life.
By Karen Brooks
Early last February, Aubrey Shi pulled a directory of yellowing index cards from the John J. Wilcox, Jr., Archives at Philadelphia's William Way LGBT Community Center. Among the text on each, she identified phone numbers and addresses for gay and lesbian organizations and bars. But what did the other jargon on some of them mean?
A rising junior double-majoring in English and Philosophy, Politics, and Economics, Shi discovered the terms she didn't recognize were codes used within the gay community to disclose particulars about various establishments, like the clientele they catered to. "This showed how we have to piece together the histories of marginalized groups, because they had to stay hidden," she says.
Shi was exploring the Wilcox Archives for a course that bridges Penn's Department of English and Theatre Arts Program. Taught by Heather Love, Professor of English, and Brooke O'Harra, Senior Lecturer in Creative Writing, "Queer Archives, Aesthetics, and Performance" aims to familiarize students with using physical and digital archives to access information about LGBT and other minority histories, and then to re-imagine those histories through live performances.
Love and O'Harra have been offering the course, open to undergraduate and graduate students across the university, for four years, incorporating resources like the William Way Center, the Lesbian Herstory Archives and Franklin Furnace Performance Archive in New York, and Gale's Archives of Sexuality and Gender online. Nine students spanning programs in the School of Arts & Sciences and the Stuart Weitzman School of Design participated in the latest session this past spring semester.
"Homosexuality has long been stigmatized and culturally out of bounds, so the problem of preserving traces of homosexuality is very intense," says Love, noting that if they weren't writing in code, LGBT individuals throughout history usually didn't keep written records at all. "Without official archives, accessing queer history means finding and interpreting different kinds of material traces—beer mats from gay bars, for example," she adds.
Making a Scene
When Shi walked into an Annenberg Center performance studio for the first class and saw acting props and stage cues, she recalls feeling confused about what performance had to do with archival research. "Then I realized we'd be using information from archives to visualize history we know very little about—to try to recreate the historical background onstage," she says.
The format made sense for the pair teaching the course, too. Longtime friends Love, whose expertise comprises 20th-century literature and gender and sexuality studies, and O'Harra, an accomplished director and playwright, designed their course to encompass readings, films, and visits by queer artists who engage archives in their work. After facilitating discussions around archival material, they challenge their students—who are not required to have prior acting experience—to use these items as inspiration for body movements and short scenes.
In one exercise this spring, for instance, O'Harra asked each student to read some sort of archived address, like a letter or announcement, aloud in class, either alone or with peers. She says this forced the performers to think more deeply about a piece's original author and audience, as well as how its meaning evolves when delivered by new speakers to a group of predominantly queer modern-day students. Another time, she tasked students with staging a short performance around an object they selected from an archive.
"The stage work is a language of translation. You can read and talk and break subjects down forever, but it's complicated to understand why you're attracted to something. What in that archival material is exciting you, and how do you translate that into a live experience?" O'Harra says. "This class does something others don't, which is to acknowledge that we have personal, emotional responses to our research and that to engage others in that, we can't just say, 'Look at this cool object.' It has to be more like, 'This does this to me, and through that, I do this to you and affect you in an immediate way.'"
No Papers Allowed
For their final project, students developed a performance, video, podcast, or piece of artwork—"anything but a research paper," O'Harra says. Rising junior Eug Xu, a history major minoring in theatre arts who has a passion for textiles and costume design, based theirs on the Barnard College Archives' Sara Jaffe Zinester Ephemera Collection, which contains several well-worn t-shirts once owned by queer artist and post-punk musician Sara Jaffe.
During their presentation, Xu matched one of their own shirts to each of Jaffe's, highlighting comparisons in wear and tear, staining, design, and messaging. "This was a transcendental experience," Xu says. "My partner makes fun of me for thinking the most incredible thing I've done in my field is looking at some old t-shirts, but it was really interesting to read [Jaffe's] t-shirt collection against my own and feel like I was getting close to someone from history."
Love is on sabbatical until fall 2024, so "Queer Archives, Aesthetics, and Performance" will not be offered next academic year, but she and O'Harra will teach it again when she returns.
"We want to encourage a living, embodied engagement with history," Love says. "We focus on populations whose realities are often at stake because of attempts to disappear or weaken them by taking away their history, so we try to speculate and reimagine archives when there aren't many material traces there. That's at the core of bringing in performance—it's a way to counter some of those erasures."