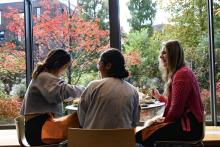 David Fox on the Penn Mentor Meals Program, a New Initiative by NSOAI
See this coverage as it originally appeared on the Penn Today website: https://penntoday.upenn.edu/news/penn-college-houses-building-mentorship-through-food
Building mentorship—through food
A new initiative, Mentor Meals, aims to bring students together with faculty and staff through a complimentary lunch at Lauder College House.
Earlier this month, New Student Orientation & Academic Initiatives (NSOAI) launched a new program aimed at fostering community among students and their mentors, using meals as glue. 
The Penn Mentor Meals Program, as it is officially referred to, offers students the opportunity to have lunch at Lauder College House's dining café. Students, faculty, and staff are encouraged to invite a mentor or mentee, by filling out a registration form, to join them for lunch on Tuesdays, Wednesdays, and Thursdays, through the end of the semester. Meals can be one-on-one or include a small group of four participants, including a mentor and there is no cost for the meal. 
"Our initial pilot program is underway and has been very successful so far," says David Fox, a lecturer in Theatre Arts and director of the Penn Reading Project and New Student Orientation. "We're using the lovely private pavilion in Lauder College House—people who haven't seen it are in for a treat, including a fantastic view of Hill Field, and a comfortable array of table and chair configurations that will make it possible to have a range of events from one-on-one lunches to larger groups [for faculty-hosted meals]."
The program is in partnership with Penn Dining, which previously collaborated with the Office of the Provost and NSOAI to operate the Take Your Professor to Lunch Program, a similar initiative that was more focused on student-faculty meals and was hosted at the University Club, inside the Inn at Penn. When Mentor Meals was being planned, says Barbara Lea-Kruger, director of communications and external relations for Business Services, there was a desire to move the program into the College Houses as part of a larger effort to create opportunities for community building across all campus dining. Lauder was chosen for the Mentor Program in part because the dining café only operated for dinner, making it available for the lunch program, but the café's unique atmosphere was also a factor.  
It was important that the overall experience mimic the intimacy of the University Club. While participants pick up their food at a counter, tables include a table runner, napkin-wrapped utensils, and a plant. Guests also don't need to clear their tables. Pamela Lampitt, director of business services, hospitality services, describes it as a warm environment meant to be conducive for conversation. 
"Creating an environment is really important," says Lampitt. "Building community around food is what we do, and this is an opportunity for the greater Penn community to experience what we have to offer."
The food will mostly replicate Lauder's popular featured dinner entrees, which, atypical of other dining experiences on campus that focus on providing a wide variety of options, includes chef-curated main dishes that range from shrimp scampi risotto to a barbecue jackfruit vegan macaroni and "cheese." This is in addition to a soup of the day, a salad bar, and a small selection of sides. Plus, coffee and tea—staples for any mentor-mentee meeting.
The inclusion of staff is also what differentiates Mentor Meals from the program's previous iteration. 
"When you think of student mentors, faculty come to mind first, but the reality is that many staff members on campus also have key interactions with students. To be able to include these relationships is, I think, really unique," says Lampitt, who has worked as professional staff at Penn for more than 40 years. "The essence of how we as staff interact with students and how we are impactful outside the classroom is part of why we broadened the scope of the program and I encourage staff to use this as way to further their connection with students." 
Fox notes that while the COVID-19 pandemic put the Take Your Professor to Lunch program on hold, there was a strong desire to bring it back once it was possible, acknowledging it as not just a way to build community but "benefit the educational process." The time away, he says, has allowed them to plan a program that's even more inclusive. 
"The time away led us to think more broadly about the mission of the program, and I hope the name change—calling it Mentor Meals—helps make clear that we want this program to be open and welcoming to all of Penn's staff and faculty who have connections to serving students," Fox says. "We want them to come and have lunch together, on us."
Participants are limited to two meals per semester. To initiate, a student, faculty or staff member, or mentor of other types—RAs, Peer Advisors, and teaching assistants—should plan to fill out a registration form that lists the invited mentor or mentee. Only one person in the group needs to fill out the form.
Following final exams, the program will take a hiatus, again resuming at Lauder College House for the beginning of the spring semester.