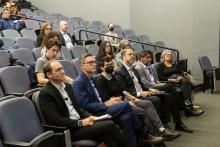 Aaron Levy on the role of the arts in human healing and flourishing
See this coverage as it originally appeared on the Penn Today website: https://penntoday.upenn.edu/news/multidisciplinary-panel-highlights-role-arts-human-flourishing
Multidisciplinary panel highlights role of the arts in human flourishing
At a panel event held Saturday, Oct. 22, Penn leaders from the arts and humanities, nursing, psychology, and neuroscience gathered to discuss the role of the arts in healing and flourishing.
In an introduction, Aaron Levy, a senior lecturer in the English and History of Art departments and director of Health Humanities Initiatives at Penn Medicine, showcased an unidentified Medieval painting that portrayed three "plague saints" during the era of the bubonic plague. It could be explained as a means of soliciting a sense of protection, or of gratitude for survival. It could, moreover, be seen as a way of learning of the burdens of the world.
"But also," he said, art could be seen "as a means to navigate one's own suffering."
That's a practice that continues today, he explained, especially in times of our own plague. 
Levy opened a wide-ranging, multi-disciplinary dialogue on Saturday, Oct. 22, inside the Penn Museum, about the role of the arts in human healing and flourishing, especially in context of the pandemic. Speakers at the event included, in order of appearance: James Pawelski, a professor of practice and director of education at the Penn Center for Positive Psychology; Marion Leary, director of innovation at the School of Nursing; Chris Gruits, executive and artistic director at Penn Live Arts; and Anjan Chatterjee, director of the Penn Center for Neuroaesthetics and a professor of neurology, psychology, and architecture in the Perelman School of Medicine.
Levy opened by discussing not only the role of art in times of peril, but the power of narration. He cited his interdisciplinary work with Penn Medicine through the Listening Lab, an online storytelling initiative with audio stories from staff, providers, patients, chaplains, and caregivers. The Lab tells stories of cancer, COVID-19, racism, and other "pressing issues" of our time, he said. Levy spoke of it as an initiative that translates narratives for shared humanity.
He added, setting the stage for the talks to follow: "The story can also be a threshold that helps us bear witness to the intensity of suffering and the search for meaning, joy, and flourishing that is ultimately central to the aspiration of medicine and the arts."
Levy then introduced Pawelski, who is the founding director of the Humanities and Human Flourishing Project in the Positive Psychology Center. He embarked on a discussion of the "positive humanities," defining it as a new field of inquiry and practice concerned with the relationship between culture and human flourishing. He emphasized the impact of the arts and humanities on wellness, invoking words from art historian and curator Nathalie Bondil that makes the point that, a century ago, it was not widely accepted that sports, as an exercise of physical conditioning, is a healthy activity. Pawelski emphasized the importance of broad collaboration and scientific research to effect this change.
He referred to a survey he and his team conducted during the height of the COVID-19 pandemic that asked to what extent the arts and humanities helped those surveyed to cope with the coronavirus outbreak. A positive response was correlated with higher outcomes on virtually every element of well-being measured, from satisfaction with life to optimism, and from meaning and purpose to a sense of community. 
Pawelski said his current work is focused on the effects of humanities on well-being, art museum visits on well-being, arts and cultural engagement on the development of Black youth, and music on human flourishing. He is also working on the role of the positive humanities in reducing the threat of mass shootings—a collaborative project with the FBI. 
The latter may seem like an unlikely pairing, he acknowledges, but he argued it is one that makes sense if we consider the tendency of mass shooters to rely on negative cultural sources for support. 
"There's a cultural component to this, so we're working with the FBI to understand how the positive humanities may help us understand how to encourage folks in that situation to take better paths in culture," he said, explaining they might otherwise seek out communities based on music extolling violence or on the manifestos of previous mass shooters. "How to encourage the rest of us to make more available these positive paths for them."
Next among the speakers, Leary detailed the Nursing Story Slam project, supported by The Sachs Program for Arts Innovation. It's one of several examples she gave of how the School of Nursing is engaging the power of storytelling. 
"Stories allow us to process our own experiences, and at no time has that been [in greater need] than these past couple of years of the pandemic," she said. "They also allow us to amplify work nurses are doing every day. Nurses are at the bedside, but also in board rooms, courtrooms, research labs, startups, the military, Congress, all these places and so many [others]."
She also spoke of the Frontline Health Workers Digital Theater Project, which included reflections on life during the pandemic and culminated in two original plays put on virtually by professional actors in New York and Philadelphia. 
"We were able to really show audiences what it was like for health care workers during the pandemic, both inside the hospital and in their own personal lives in a creative, different way," she said. 
Gruits then gave a theoretical overview of the intrinsic and instrumental values of the arts—noting that he is often asked the "value" of the performing arts. He cited the "intrinsic" value as the ideas and observations about our world; the instrumental, meanwhile, might be considered the economic impact of the arts—the ripple effects that invigorate urban cores and restaurant industries surrounding theaters. But also, he added, less-considered effects like increased cross-cultural understanding, social impact, or even the kinds of cultural diplomacy that take place between nations and their leaders. 
But the intrinsic, because of how difficult it can be to quantify (while citing a 2007 study that attempted to do so), shouldn't be ignored. 
"I think in this way we can measure intrinsic value and its impact on many levels, and we can assert many works of art move us toward something higher at the best of times, or at the very least exist as a reminder of our collective human potential, creativity, and spirituality," Gruits said. "The works of art or experiences are markers on the way to understanding our existence and what it means to be human; they serve as thresholds for self-understanding and play an important role in our life." 
Finally, Chatterjee spoke of the nature of aesthetic experiences through a scientific lens, recalling his "aesthetic triad" model, which theorizes a relationship between knowledge and meaning, the sensory and motor, and emotion and valuation as making up the aesthetic experience. 
He also spoke of the built environment as the majority of where our time is spent and the impact of that. 
"We're embedded in space all the time, and this came to the forefront during the pandemic when people were confined to their homes, and the way your environment has a huge impact on your sense of well-being," Chatterjee said. "And this is something we don't think about very much or not a lot of thought is given to it. What is the nature of a space that is in the background and has an impact on how you function?"
Before closing out the event, the panelists gathered for a brief Q&A discussion, where the panel was asked from the audience about how to measure the impact of cultural centers on well-being. 
"I think it's a fantastic question and something we continue to work on," answered Pawelski, describing it as an effort that may never field an exact, universally agreed upon answer. "It's not like the Pythagorean theorem. Rather, it's an ongoing conversation."
Another question fielded was about how to get people who are averse to experiencing culture, particularly contemporary arts, to open their minds to new ideas. Gruits advised adding as much context to the experience as possible, especially before a visit to, say, a museum or a performance. Chatterjee, meanwhile, advocated for museums as places of enhanced "fascination," but noted that they still need to give more consideration to "homeliness." 
"It's something museums don't pay enough attention to and can be a way in which museums can be off-putting," Chatterjee said. 
"I think some explicit and strategic thought around the notion of 'homeliness' can be important because it gives you the safety and the platform on which people can then delve into the fascinating part of exhibits," he added.
Levy concluded that the arts and humanities may be entering a "paradigm shift" moment—a time to, he said, "think about how we integrate the arts into spaces people previously didn't feel included or think of as spaces amenable to cultural engagement."