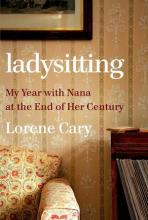 Lorene Cary publishes new memoir, LADYSITTING
Congratulations to Lorene Cary, senior lecturer in the English Department, for her new memoir, Ladysitting: My Year with Nana at the End of Her Century (W.W. Norton & Co.)! 
About Ladysitting: Lorene Cary cherished memories from childhood of weekends with her indulgent Nana. Now she and her family spend a year "ladysitting" the frail centenarian. It's a moving, sometimes funny, journey through secrets, lies, and epiphanies, one that millions of families make each year, as they struggle together to share life--and face death.
The Free Library of Philadelphia, Central Branch, is also hosting Cary's first public reading of Ladysitting tonight, Tuesday, May 7, at 7:30pm. The event is free and open to the public.