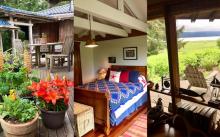 Buzz Bissinger featured in the Daily Pennsylvanian
Buzz Bissinger, a Kelly Writers House Fellow in 2014 and current lecturer with the Creative Writing Program, is featured in the Daily Pennsylvanian's article, "Penn prof. Buzz Bissinger hosts student writer's residency in Pacific Northwest home." Bissinger and his wife Lisa Smith have hosted the Clearman Cottage Residency, a unique program for undergraduate creative writers during which they host one student during spring break, in collaboration with the Kelly Writers House since 2015. 
This year's student resident was College senior Sabrina Qiao. Prior residents have included 2017 College graduate Nikhil Venkatesa and 2016 College graduate Alina Grabowski.