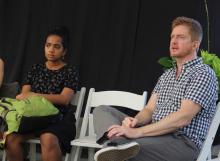 Jay Kirk's new class featured in The Daily Pennsylvanian
The Daily Pennsylvanian's article "In this course, Penn students will have a hand in launching a new literary journal, Xfic" features a new course by Jay Kirk, lecturer in the Creative Writing Program. Kirk's new class, Advanced Nonfiction Writing: XFic, allows students to simultaneously publish their work and receive class credit. The course will also mark the start of Xfic, Penn's premier literary journal in experimental nonfiction.  
To join the course, students must first pitch a proposal for a long-form story to be written in experimental nonfiction style. If accepted by the instructor, the student will then pursue the story for the duration of the course. The course will have a cap of 10 students and will be available for spring enrollment during advanced registration period. Story pitches for acceptance to the class are due on Oct. 25, 2018 to jaykirk@comcast.net..