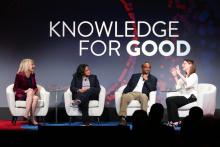 Emily Steiner featured in Penn Today
Emily Steiner, Professor of English, is featured in Penn Today's article, "'Power of Penn' in Boston." 
The "Power of Penn" event in Boston on October 2, 2018 was one of several held in major cities to aid fundraising efforts focused on the Unversity's commitment to innovation, inclusion, and impact. During a "Knowledge for Good" panel, Penn President Amy Gutmann led a conversation on the diversity of teaching and research with professors Donita Brady, Vivek Shenoy, and Emily Steiner. Professor Steiner spoke about her work finding the backstories of medieval language and literature and researching the history of the book, as well as her use of Twitter to share her knowledge and love of the medieval with the world.