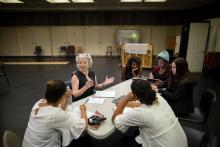 Rosemary Malague featured in Penn Today
Rosemary Malague, Director of Penn's Theatre Arts Program, is featured in Penn Today's article, "Theatre students perform on international stage Play by Penn alumna about African-American women featured at Edinburgh Fringe Festival."
Dr. Malague is the director of "Curio (a cabinet of curiosities)," a one-act play that had its international debut at the Edinburgh Fringe Festival in Scotland. An adaptation of a longer work written by Penn alumna Danielle Bainbridge, from her doctoral research at Yale University on enslaved people who were displayed as freak show performers, "Curio" combines history and modern interpretation to share the story of Millie and Christine McKoy, black sisters conjoined at the spine, born into slavery in 1851, and sold to perform as sideshow entertainers, making them internationally famous. The play and production were developed in Dr. Malague's Theatre 250 course in the Spring 2018 semester, also known as the "Edinburgh Project" course.
Image credit: Eric Sucar. Image caption: Rosemary Malague, director of the play "Curio" and director of Penn's Theatre Arts Program, gives notes after the final rehearsal on campus before traveling to the festival.