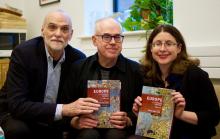 Professor David Wallace publishes Europe A Literary History, 1348-1418
This collaborative literary history of Europe, the first yet attempted, unfolds through ten sequences of places linked by trade, travel, topography, language, pilgrimage, alliance, disease, and artistic exchange. The period covered, 1348-1418, provides deep context for understanding current developments in Europe, particularly as initiated by the destruction and disasters of World War II. We begin with the greatest of all European catastrophes: the 1348 bubonic plague, which killed one person in three. Literary cultures helped speed recovery from this unprecedented "ground zero" experience, providing solace, distraction, and new ideals to live by. Questions of where Europe begins and ends, then as now, and disputes over whom truly "belongs" on European soil are explored, if not solved, through writing.
A war that would last for a century convulsed much of western Europe. Divisions between Orthodox and Roman Catholic Christianities endured, and in 1378 the West divided again between popes of Avignon and Rome. Arabic literary cultures linked Fes and Granada to Jerusalem and Damascus; Persian and Turkish writings began to flourish south and west of Constantinople; Jewish intellectuals treasured Arabic texts as well as Hebrew writings; Armenian colophons proved unique. From 1414-18 western nations gathered to heal their papal schism while also exchanging literary, humanist, and musical ideas; visitors from the East hoped for commitment to wider European peace. Freed from nation state historiography, as bequeathed by the nineteenth century, these 82 chapters freshly assess the free movement of European literature in all its variety, local peculiarity, and regenerative power.