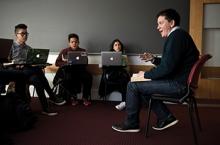 Q&A with Professor Heather Love
The field of Queer studies has its roots in defiance and rebellion. The activists and academics who founded the discipline were revolting against a heteronormative nation and complete and total assimilation, breaking the rules of how to be scholars, and reshaping popular notions about sexuality.
"Queer studies was meant to be an insurgent discipline or anti-discipline, to go against the norms of academic business as usual," says Heather K. Love, the R. Jean Brownlee Term Associate Professor in the Department of English in the School of Arts & Sciences and a core faculty member in the Gender, Sexuality & Women's Studies Program.