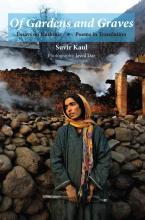 Professor Suvir Kaul's New Book: Of Gardens and Graves: Essays on Kashmir | Poems in Translation
Professor Suvir Kaul's new book, Of Gardens and Graves: Essays on Kashmir | Poems in Translation is now available from Three Essays Collective. Congratulations Professor Kaul!
---
Of Gardens and Graves examines the textures of everyday life in Kashmir after 1990, the years of pervasive militarization of the valley. It combines personal essays with enquiries into the pre- and post-Partition histories and political actions that underlie the present conflict.
The volume also features translations of poems written in Kashmiri in these last twenty-five years of conflict. The author argues that such creative writing is a powerful archive for our understanding of the experiences, and thus the political feelings, of Kashmiris. These poems enact for us fissures in Kashmiri lives and emphasize the effects of long-term violence and dislocation on individuals and communities. In doing so, they remind us why Kashmir remains an extraordinary challenge to the functioning of democracy in India.
Of Gardens and Graves also contains a photo-essay by the Srinagar-based journalist Javed Dar, whose photographs offer a visual counterpoint to the poems in the volume. Dar's remarkable pictures juxtapose spectacular events and daily life, showing just how intertwined they are in Kashmir.
---
Suvir Kaul is the A. M. Rosenthal Professor of English at the University of Pennsylvania. He has published three books, Eighteenth-century British Literature and Postcolonial Studies (2009), Poems of Nation, Anthems of Empire: English Verse in the Long Eighteenth Century (2001), and Thomas Gray and Literary Authority: Ideology and Poetics in Eighteenth-Century England (1992) and has edited a collection of essays entitled The Partitions of Memory: the afterlife of the division of India (2001). He has also coedited (with Ania Loomba, Antoinette Burton, Matti Bunzl and Jed Esty) an interdisciplinary volume entitled Postcolonial Studies and Beyond (2005).