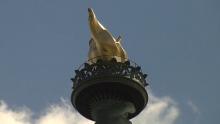 Max Cavitch featured as commentator in documentary IMPRISONED LIGHTNING
English professor Max Cavitch is featured as a commentator in the short documentary film Imprisoned Lightning: Emma Lazarus and the Statue of Liberty, dir. Andrea Simon (Arcadia Pictures, 2011).
About Imprisoned Lightning: Homage to the fierce young Jewish poet who spent her brief time on earth fighting on behalf of her people and all the other Others. Because, as she says: "Until we are all free, we are none of us free." With comments by novelists Teju Cole and Gish Jen, filmmaker Musa Syeed, Lazarus biographer Esther Schor, Rabbis Sharon Kleinbaum and Amichai Lau-Lavie, scholars Ed Berenson and Max Cavitch, and Imam Khalid Latif. Commissioned by the Museum of Jewish Heritage to commemorate the 125th anniversary of the Statue of Liberty and explore the contemporary meaning of Lazarus's poem, "The New Colossus." Produced in collaboration with the National Park Service.