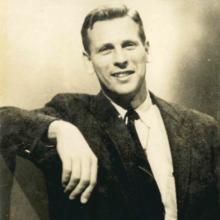 West Point Names Dr. Coffin Visiting Professor
Dr.Tristram P. Coffin, Associate Professor of English at the University, has been named a Visiting Professor at the United States Military Academy.
Colonel R. K. Alspach, Head of the Department of English at West Point, stated that this was the first time the Academy had engaged an outstanding civilian educator as a visiting professor.
"We are proud of the fact that Dr. Coffin, who is so well noted in the field of English, is acting in this capacity," he said.
Dr. Coffin, who is teaching Contemporary Literature one day a week at the Academy during the current Spring term, did his graduate work at this University.  He is widely known for his scholarly works on American Folklore, having written five books and many articles on the subject.