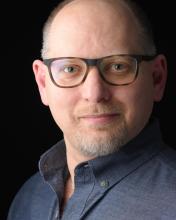 Global Discovery Series: Film, Photography, and Virtual Reality
Tuesday, January 9, 2024 -

12:00pm

to

1:00pm
Location: VIRTUA
Co-sponsored by the Penn Club of Los Angeles
Over the past decade, Professor of Cinema & Media Studies Peter Decherney has worked with students to create a series of documentary films, virtual reality experiences, and photography projects. These interdisciplinary teams have collaborated with partners in Myanmar, Kenya, Ethiopia, Puerto Rico, and Philadelphia, and their projects have been featured at film festivals, exhibited in galleries, and been the recipients of prestigious awards.
In the spring of 2023, Professor Decherney and Penn Global brought these projects under the umbrella of the new Penn Global Documentary Institute. The institute serves as a hub for fostering documentary collaborations among faculty, students, and global partners, with a primary focus on generating impactful and professional-quality work.
In this webinar, Professor Decherney will share work from the Institute's first 6 months, which has included projects in Ethiopia, Kenya, South Africa, Uganda, Philadelphia, and New York.
Peter Decherney is Professor of Cinema & Media Studies at the University of Pennsylvania, Director of the Penn Global Documentary Institute, and Faculty Director of Penn's university-wide Online Learning Initiative. He holds a secondary appointment at the Annenberg School for Communication and an affiliation with the Center for Technology, Innovation, and Competition at Penn Law School.
He is the author or editor of seven books including Hollywood's Copyright Wars: From Edison to the Internet and Hollywood: A Very Short Introduction. Prof. Decherney has also written for The New York Times, Forbes, and Inside Higher Ed, among other publications. His first book of photography Endless Exodus: The Jewish Experience in Ethiopia. 
He is an award-winning documentary and virtual reality filmmaker, who has directed a series of films about global migration and on the political role of artists in Myanmar, Kenya, Ethiopia, and the U.S. His virtual reality docuseries, The Heart of Puerto Rico, about artists in Puerto Rico after Hurricane Maria (co-directed with Jean Lee) won the Best VR Experience and Best Director awards at the 2020 AT&T Film Awards. And his documentary, Dreaming of Jerusalem (co-directed with Sosena Solomon), about the Jewish Community in Gondar, Ethiopia is a Discovery+ original.
Professor Decherney has been an Academy of Motion Picture Arts and Sciences Scholar, a fellow of the American Council of Learned Societies, and a U.S. State Department Arts Envoy to Myanmar. He is an award-winning teacher, whose open online course on the history of Hollywood has enrolled more than 70,000 learners. He serves on the advisory boards of several online learning organizations including Coursera, 2U/edX, and the Center for Reimaging Learning, and he is an advisor to Honor Education.
Questions?
Email Janell Wiseley at jwiseley@upenn.edu