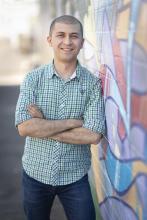 Dissertation Defense: J. Felix Gallion
Camp Carcerality: On Abolition and Ethnic Mexican Agricultural Labor Migration
Monday, July 10, 2023 -

2:00pm

to

4:00pm
FBH Faculty Lounge
Please join us on Monday, July 10th, at 2 PM in the FBH Faculty Lounge, when J. Felix Gallion will defend his dissertation, "Camp Carcerality: On Abolition and Ethnic Mexican Agricultural Labor Migration."
"Camp Carcerality" explores commercial U.S. agriculture as a carceral system. It examines why the spaces that Mexican American/Chicanx migrant farmworkers encounter during their agricultural labor migration are carceral and how these spaces, and migrants' experiences within them, are represented across media. My carceral framework is influenced by the new directions in prison and abolition studies that do not center on just walls and cages, but understand carcerality as an expansive and malleable concept defined by social relations that result in what Ruth Wilson Gilmore calls the "organized abandonment" of specific populations. This dissertation explores the lived experiences of migrant farmworkers through the interdisciplinary analysis of novels, folklore, oral histories, documentary films and digital media, and ethnographic fieldwork at agricultural labor camps. I show through testimonios how the US state and the agriculture industry organize the spaces and social relations of the migrant trail to deny forms of mobility, bodily autonomy, and socio-political power to farmworkers.
At stake in applying a carceral framework to farmworker studies is understanding how agribusiness has long been a central part of carceral capitalism. Furthermore, it shows that farmworkers and their efforts to abolish the current agricultural system need to be recognized as integral components of the broader abolitionist movement due to the deep interconnection of their experiences with those living in other carceral spaces. The consequences of this analysis extend far beyond the fields, revealing an extended abolitionist collectivity that includes migrant farmworkers and people incarcerated across the country, including those in agricultural labor camps, prison plantations, and ICE detention centers.
Committee: David Kazanjian (chair) | Rahul Mukherjkee | Julie Beth Napolin (The New School, Dept. of English) | Annelise Orleck (Dartmouth College, Dept. of History)
The public presentation will begin in the FBH Faculty Lounge at 2 pm. At 3 pm, Jeremy will adjourn with his committee to the private portion of the defense. We will reconvene in the lounge at 4 pm for a celebratory reception, where we'll toast to the newly-minted Dr. Gallion.
To join, please use the following link:
https://upenn.zoom.us/my/jgallion