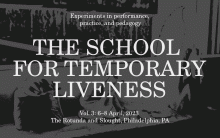 The School for Temporary Liveness, Vol. 3
Experiments in Performance, Practice and Pedagogy
Thursday, April 6, 2023 (All day)

to

Saturday, April 8, 2023 (All day)
The Rotunda and Slought
You are invited to the SCHOOL FOR TEMPORARY LIVENESS, Vol. 3: 6–8 April, 2023 at the Rotunda and Slought in Philadelphia, PA. 
Participate in situations for collective study with: 
Lou Cornum, FORTUNE, Jonathan González & Marguerite Hemmings, Adelita Husni Bey, Niall Jones, Kevin Quashie, Julie Tolentino, and Simone White.
Free and open to all — anyone can be a student. 
Organized by Lauren Bakst. 
Support for School for Temporary Liveness, Vol. 3 has been provided by The Sachs Program for Arts Innovation at the University of Pennsylvania. Co-sponsored by the Center for Experimental Ethnography, English Department, Fine Arts Department, GAPSA, LGBT Center, Poetry & Poetics Working Group, and the Wolf Humanities Center. Photos by Constance Mensh.