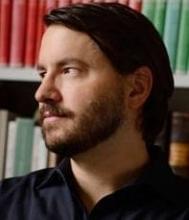 Wednesday, March 4, 2020 -

4:30pm

to

6:00pm
English Graduate Lounge, Fisher-Bennett Hall
I'm excited to announce our next Med/Ren meeting, featuring Drew Daniel, Associate Professor of English at Johns Hopkins University. Prof. Daniel is a widely published scholar of Elizabethan drama, political philosophy, contemporary film, contemporary art, and the musical avant-garde. He is the author of The Melancholy Assemblage: Affect and Epistemology in the English Renaissance (Fordham University Press, 2013), which uses assemblage theory to analyze the social distribution of negative emotion, and Twenty Jazz Funk Greats (Continuum Press, 2008), a study of the English industrial music group Throbbing Gristle.
Prof. Daniel's paper, "Smiling at Daggers: Materialism, Suicide and Affect in Addison's 'Cato, A Tragedy'," is drawn from his current book project, Joy of the Worm: Genres of Self-Killing in the Age of Shakespeare. To access this paper, please access the PennKey-protected Med/Ren Library page or email me to request a copy. We ask that you do not distribute this paper beyond the working group.
We'll be meeting on Wednesday, March 4th at 4:30 PM in the English Graduate Student Lounge (Room 330, 3rd floor of Fisher-Bennett Hall).