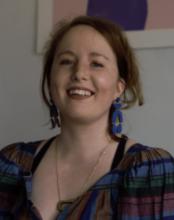 Thursday, January 23, 2020 -

12:00pm

to

2:00pm
Kelly Writer's House
Sophie Lewis is a writer, occasional translator and part-time faculty member at the Philadelphia branch of the Brooklyn Institute for Social Research. Sophie's interdisciplinary work tends to blend feminist theory and cultural criticism, interrogating work, nature, and reproduction in a queer utopian mode. Her essays have appeared in many journals (both academic and non-academic) including Signs, Feminist Review, Gender Place and Culture, and Viewpoint, Boston Review, The London Review of Books, The New York Times. She is also a member of the ecological writing collective Out of the Woods, and an editor at the journal Blind Field. Books she has translated from German include the popular Communism for Kids by Bini Adamczak. Her PhD from the University of Manchester was in Geography, and she also holds two degrees from Oxford University - in English Literature and Nature, Society and Environmental Policy respectively - as well as a Master's in Politics from the New School for Social Research. Full Surrogacy Now: Feminism Against Family is her first book.
Respondent: Matty Hemming, PhD Candidate, Department of English
RSVP to wh@writing.upenn.edu or (215) 746-POEM.