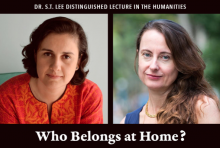 Dr. S.T. Lee Distinguished Lecture in the Humanities
Wednesday, October 16, 2019 -

5:00pm

to

6:30pm
Lightbox Film Center, 3701 Chestnut Street
https://wolfhumanities.upenn.edu/events/shamsie
Kamila Shamsie
Award-winning Author
Emily Wilson
Professor of Classical Studies, University of Pennsylvania
---
Kamila Shamsie's seventh novel Home Fire follows three orphaned British Muslim siblings who struggle in different ways with their relationship to the State, after one of them is enticed into becoming a jihadist. Shamsie considers family, nation, and faith in today's age of terror against the backdrop of  Sophocles' tragedy Antigone, in which two sisters respond differently to the legal consequences of their brother's act of treason. Home Fire received the 2018 Women's Prize for Fiction and was longlisted for the 2017 Man Booker Prize.
Joining Ms. Shamsie will be Penn Classical Studies Professor and 2019 MacArthur "Genius Grant" Award winner Emily Wilson, whose poetic translation of Homer's Odyssey illuminates family and social relationships in this ancient text, and the complicated kinship between antiquity and modernity. Shamsie and Wilson will explore the many meanings of home and homecoming, and how violence, colonialism, and war affect identity and community across national and cultural boundaries.

Cosponsored by Penn's Departments of English, Classical Studies, and South Asia Studies, and Alice Paul Center for Research on Gender, Sexuality and Women.
---
Kamila Shamsie is the author of seven award-winning novels, which have been translated into over 20 languages. Her first book, In The City By The Sea, which she wrote while a student at the University of Massachusetts, was shortlisted for the John Llewelyn Rhys Award and received the Prime Minister's Award for Literature in Pakistan. Her second novel, Salt and Saffron, led to Shamsie's selection as one of Orange's "21 Writers of the 21st Century." With her third novel, Kartography, Shamsie was again shortlisted for the John Llewelyn Rhys award in the UK. Both Kartography and her next novel, Broken Verses, won the Patras Bokhari Award from the Academy of Letters in Pakistan. Burnt Shadows, Shamsie's fifth novel, was shortlisted for the Orange Prize for Fiction, and A God in Every Stone was shortlisted for the Bailey's Women's Prize for Fiction. In 2013, Granta voted her one of its 20 most promising British writers under 40. A Fellow of the Royal Society of Literature, she grew up in Karachi and now lives in London.
Penn Classics Professor Emily Wilson is the author of five books, among which are The Greatest Empire: A Life of Seneca; The Death of Socrates: Hero, Villain, Chatterbox, Saint; and Mocked with Death: Tragic Overliving from Sophocles to Milton. The New York Times named her English translation of Homer's Odyssey one of its 100 most notable books of 2018.