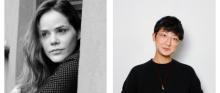 KWH: Laynie Browne, Bianca Stone, and Connie Yu
Whenever We Feel Like It
Tuesday, November 27, 2018 -

6:00pm

to

7:00pm
Kelly Writers House, 3805 Locust Walk, Arts Cafe
All events take place at the Kelly Writers House, 3805 Locust Walk, and are free of charge. If you have any questions or would like further information, please e-mail wh@writing.upenn.edu, or call 215-746-7636. For a more detailed Writers House calendar,  visit http://www.writing.upenn.edu/wh.
Laynie Browne is a poet, prose writer, teacher and editor. She is author of thirteen collections of poems and three novels. Her most recent collections include a book of poems You Envelop Me (Omnidawn 2017), a novel Periodic Companions (Tinderbox 2018) and   short fiction in two editions, one French, and one English in The Book of Moments (Presses universitaires de rouen et du havre, 2018). Her honors include a 2014 Pew Fellowship, the National Poetry Series Award (2007) for her collection The Scented Fox, and the Contemporary Poetry Series Award (2005) for her collection Drawing of a Swan Before Memory. Her poetry has been translated into French, Spanish, Chinese and Catalan. Forthcoming books of poetry include: Amulet: New & Selected Poems, Amulet Sonnets, In Garments Worn by Lindens, and Translation of the Lilies Back into Lists. Current projects include editing an anthology on The Poet's Novel, and a collaboration with visual artist Brent Wahl on a public art project in !
 Philadelphia, an installation including sculpture and poetry inscribed in thirteen languages in the new Railpark in Callow Hill. She teaches at University of Pennsylvania and at Swarthmore College.
Bianca Stone is a writer and visual artist. She was born and raised in Vermont and moved to New York City in 2007 where she received her MFA from NYU. She collaborated with Anne Carson on Antigonick, a book pairing Carson's translation of Antigone with Stone's illustration and comics (New Directions, 2012). Stone is the author of the poetry collection Someone Else's Wedding Vows, (Tin House Books and Octopus Books, 2014), Poetry Comics From the Book of Hours (Pleiades Press, 2016) and The Mobius Strip Club of Grief (Tin House, 2018). Her poems, poetry comics, and nonfiction have appeared in a variety of magazines including Poetry, jubilat, and Georgia Review. She has returned to Vermont with her husband and collaborator, the poet Ben Pease, and their daughter Odette, where they run the Ruth Stone Foundation, a writing collective, letterpress studio, and artist residency.
Connie Yu is a writer and performer living in Philadelphia, attending to queer Asian worry, meetingplaces for this, that body and what it wears, alternate and constricted transmissions of information. Their poetry and essays have been published in Apiary, Supplement, and Jacket2. Recently, they have worked as an educator at Center for Creative Works; and as a curator of gallery shows and contingent programs at the Kelly Writers House.