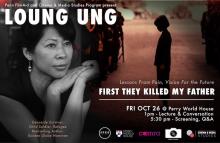 Perry World House: Keynote Lecture and Conversation with Loung Ung
First They Killed My Father: Lessons From Pain, Vision For The Future
Friday, October 26, 2018 -

1:00pm

to

2:15pm
Perry World House, 3803 Locust Walk
Penn FilmAid, Penn Cinema & Studies Program, and Perry World House are proud to welcome Loung Ung on Friday & Saturday, October 26th & 27th, 2018. Loung Ung, genocide survivor, former child soldier, resettled refugee, best-selling author, Golden Globe-nominated producer & screenwriter, will be at Perry World House for a lecture, screening, and conversation, "First They Killed My Father: Lessons From Pain, Vision For The Future." Loung Ung's lecture will offer a first-hand, perspective on global human rights, war crimes, genocide, local and national response to the refugee crisis and the path ahead, from Loung, who at age 5, witnessed her father's murder by the Khmer Rouge, in Cambodia. At a time when immigration and refugee policy are such hot-button issues, the timeliness of Loung's lecture cannot be over-emphasized! 
This event is free and open to the public. Please view the event's listings on the Penn FilmAid and Cinema & Studies Program websites for more information.  
-------------------------------------------------------
KEYNOTE LECTURE & CONVERSATION:
Lessons from the Pain, Vision for the Future 
Friday, 10/26 1:00-2:15PM PWH
What can we do to help refugees and immigrants? What kinds of local, institutional, and national changes and policies are needed to address the worldwide refugee crisis? 
Please join us for our keynote with Loung Ung as she speaks about what it took to transition from genocide survivor, child soldier and refugee to survivor, best selling author and filmmaker and about the everyday heroes who made this possible. Along the way, we hope to build a clearer vision and answer to these questions.
-------------------------------------------------------
SCREENING & DISCUSSION:
First They Killed My Father (2017)
Friday, 10/26 5:30-8:00PM Followed by Q&A
Join us for a screening of this groundbreaking historical thriller film written by LOUNG UNG and directed by ANGELINA JOLIE. Based on Ung's memoir of the same name, the film depicts 7-year-old Ung, who is forced to be trained as a child soldier while her siblings are sent to labor camps during the Communist Khmer Rouge regime. 
Trailer: https://www.youtube.com/watch?v=uS3Vp_quGCw
-------------------------------------------------------
On Saturday, October 27th Ms. Ung will have a breakfast talk, "Breakfast With Loung: Strategies for Story, Script, Screen," with a small, selected group of students, where she will discuss her writing process, offer tips and strategies for taking a story from script to screen and maximizing impact as a novelist and screenwriter. Apply for a spot for "Breakfast With Loung: Strategies for Story, Script, Screen" by writing 2 to 3 paragraphs on why you should be selected and submitting to the application link on Penn FilmAid's website.